So.. I'm driving home from work today... Coasting down a hill and my AC shuts off. So then I steer around the bend and I'm like WTF no power steering. I look and my vehicle has shut off off. So I pop it back into gear and the vehicle thankfully turned back on. Next hill I paid extra attention. Threw it into neutral for my downhill coast and rpm's just dropped all the way to nothing and the car stalled. I then tried to manually start it and it started right back up. No engine codes. So whatever makes the rpm's at least stay at idle was not functioning properly. I got the car home and it idled fine, but I would like to get to the bottom of this.

Any Guesses? Thanks in advance.

My car was having a similar issue but it wasn't stalling itself completely. Rather I kept getting overly low idle when coasting, but once stopped still in neutral it would return to normal idle. My car never threw a check engine light either. Will the car idle normally when stationary in neutral? My fix (at least so far) was to clean the mass airflow sensor in the intake. I have an aftermarket intake and because of where the valve cover breather was routed to the intake, it was spitting oil on the MAF and clogging it. Pick up some MAF cleaner (they make specific cleaner for it) and give that a try. Let me know if that works for you. Good luck
2002 Blue LS Sport Coupe 5-speed
My Paint Restoration Project -->
http://www.j-body.org/forums/read.php?f=11&i=170933&t=170933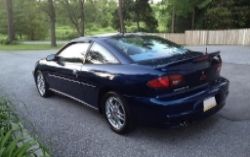 Thanks I'll try cleaning that sensor too. I haven't had the issue again yet, but what I've done so far was clean the throttle body, and run some seam foam in the gas.

Yeah that's not a bad idea either. If non of this fixes your issue, I would look for a vacuum leak. If there's a vacuum leak the car might sense it and adjust the air/fuel ratio to compensate when it's unnecessary- causing the car to run lean or rich and thus causing the issue. Just another thought to consider.
2002 Blue LS Sport Coupe 5-speed
My Paint Restoration Project -->
http://www.j-body.org/forums/read.php?f=11&i=170933&t=170933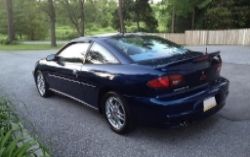 You have to catch the vehicle "in the act" and then test it for proper fuel and spark. Another helpful tip is to check the fuel trim data on a scanner to determine if the vehicle is running rich or lean when it's giving you problems. You probably know this, but, anything more than 10 indicates a lean condition where the ECM is trying to add fuel and anything less than -10 indicates a rich condition where the ECM is trying to subtract fuel. Here is an article I wrote:
https://www.yourmechanic.com/article/how-to-fix-a-stalling-car
https://www.yourmechanic.com/pro/mbevacqua