Dan j you can tell when your in overdrive, because or at least in my case anyway the second you hit 40 mph or so the rpms drop way back that's the computer putting it in overdrive. 39 mph is essentially the end of 3rd gear i believe.

Thank you.Awesome post, Iam just learning driving .Just printed them all to makes things easier .Very helpful post.

not only are you right but your the MAN! good looking out on this!

Ain't Nothing To it But To Do IT!!!
Plug wire make a difference with fuel economy.
I installed the manufacturers recommended AC Delco plugs into my brothers 99 Alero with a 3.4L in it. I installed MSD 8.5mm Super Conductor plug wires and kept the stock coils. That is all I did to the car. According to my brother, his fuel economy went up nearly 7 MPG on the highway and his torque and horsepower went up as well. He said he could feel a huge difference in power between stock wires and the MSD wires.
After that, I installed 8.5mm MSD Super Conductors on everything I did a tune up on.
I noticed a difference in fuel economy in my Blazer where I gained 3 MPG in the city and roughly 5 MPG on the highway with 8.5mm MSD Super Conductor plug wires on a stock replacement cap and rotor and stock replacement AC Delco plugs. Hopefully before Christmas, I can install a MSD 6A ignition box on my blazer and maybe at tax return time I can install a MSD Digital 6 ignition box on my Cav. I've seen those alone increase HP and fuel economy in friend's vehicles as well, and right now, every extra inch out of the fuel tank counts. I'm also looking to replace the plug wires on my Uplander with the same part number set that I used on my brother's Alero here shortly. Hopefully it will get me closer to 600 miles to a tank of gas and I can go home on one tank when I do go home.
I cannot say that my results will be the same for everyone, but they are what I achieved. So take this information for what it is worth. I'm sure there are plugs out there that will help fuel economy as well, and a combination of ignition components even more.
Just a tip though, MSD Superconductor 8.5mm wires come in universal kits. Some require cutting and installing the terminal at one end. The set on my blazer were application specific. I used a set for my brother's Alero that were designed for a small block Chevy and required cutting to length and terminating the coil end of the cable. It's not hard since every kit that requires terminating comes with the crimping tool.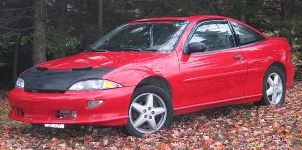 Some people have brain storms, others light drizzles. And then there are those that have droughts.
I traveled to seattle and back on 1/2 tank of gas. Mods for GODLY mileage: Your car will always have greater wind resistance than inertia energy so lighter = better in any situation.
Simplest Mods:
1. Lightweight rimes: its the 1/11 rule. Every 1lb you take off your rotating mass is the same as taking 11 lbs of dead weight out of your car. Before you buy rims, get them weighed! ALuminum are good, Mags are better, smaller = better as well. 17's work great for me.
2. TIRES!. Makes a HUGE difference. Rally tires that require high psi usually work great. They do for me! Drag slicks do not work great more resistance. The lower the profile the less weight! Smaller diameter = less weight as well!
3. Cold Air Intake: YES PLEASE!
4. High FLow muffler. Im talking really high flow. I just cut mine off! WOOT! less weight YAY! require less power to push me
5. Suspension: A lower ride creates a lower profile therefore reducing drag. The area under your car is very turbulent and creates drag as well. Lowering your car decreases this
6. Get rid of your crappy body kits. Weight requires more power and those body kits create hella drag. Get rid of rear wing.
7. Cut Weight: remove everything but your spare & jack even tho they're heavy u need that crap! keep back seat it it only weighs 2 lbs. Glovebox / airbags / steering wheel / dash / carpetting / SUBS. GET RID OF IT ALL!
8. carbon fiber hood/trunk
9. balance engine
10. tune ur car for efficiency

My little experiment:
. Drive on the smoother parts of the road. When rolling downhill @ 6% grade my car maxes out at 63 mph when driving on rough part of road, when I move over to smooth side car accelerates to 72mph! HUGE difference! DRIVE SMOOTH!
. Stay moving, time your stoplights, don't use ur breaks

drive slower is the key!! i drove at 50 mph hit 42 mpg! with my 3 speed auto... 40 lbs of air in tires k-n stock air box works good for me for the last 6 yrs and right now i am at 197,100 miles with my 00 cavalier
2000 base cavalier 3 speed auto at 212,100 as of 1/24/12
2000 Buick regal gs (Supercharged) 150,000 miles
http://s314.photobucket.com/albums/ll430/crossout80/?albumview=slideshow
Do turbo's actually increase mpg? if they do where can i find one for my 96 z24?

Quote:

2. TIRES!. Makes a HUGE difference. Rally tires that require high psi usually work great. They do for me! Drag slicks do not work great more resistance. The lower the profile the less weight! Smaller diameter = less weight as well!
very true! Also when buying a tire, look for ones that feature a "low rolling resistance". This means that the tread compounds are made to prevent "squirming" (basically tread block wiggle) which reduces excess friction thus increasing fuel economy by anywhere from 1-6% depending on vehicle, terrain, etc.
Using this and many of the principles many of you have stated, the last long trip I took with my LD9 I averaged 43.6 MPG round trip!
"Is that your exhaust or is that the sound of someone deflating a cat?"
I have a 4x4 explorer and I get about 23 mpg just by...this was increased by adding a k & n air filter and platnum plugs...also fuel booster every 3 months hasnt seemed to hinder the fuel performance.

not quite sure how this worked out so well for me, but i got 39 mpg's on a 300 mile road trip, 20 of those miles were hard in town driving. got a 95 cavalier 2.2 5 speed with some sort of exhaust modification, and steel rims, with my car fully loaded with people 2 in back 1 in passenger seat. and a trunk packed with stuff. an average of 67 mph highway. honestly i have no idea how the hell this happened, but i filled up my tank when i left, filled er' up when i got back, did the math and sure enough came back to be 38.4 mpgs i was super surprised. plus not to mention this is a fairly low maintained car, dirty air filter, who knows when the fuel filter was changed, and the plugs are 4 years old.

oh and as far as the temperature goes, it was 80 degrees outside. im wondering what kind of mpgs i could pull cruising by myself with nothing in my trunk after a full tune up.

oops meant to say 39.4 mpgs

I have an 03 Cavalier 4-door with 2.2 L ecotec & 4 spd auto. Last fill up was at 40.73 liters. Filled up now with 39.89 L. Turned over 600 km mark as I pulled into the gas station.

40.73 - 39.89 = 0.84. 39.89 - 0.84 = 39.05L / 600 km's = 6.5 liters / 100 km's. I drove 2/3 highway & 1/3 city. Tire pressure is max at 44 psi. No weight except me. Had one passenger for 80 km's. Windows always closed. Don't have a/c.

Drove 80-90 km/h on the highway & 50- 65 km/h city. For the most part accelerated slowly so rpm's were below 2,500 rpm at shift points. Shifts into 4th gear od at 61 km/h. < Tried to stay above 61 km/h in town turning 1,500 rpm.

Avoided busy streets when possible & stayed on secondary roads with minimal street lights 60 km/h limit. I should be able to do 6.0L all highway.