Like the title says, I'm getting vibrations while driving. I have a 2004 Chevy Cavalier LS

The noise:
It's kinda sounds like a wow wow wow wow wow wow wow. Really fast. The noise / vibrations seems most intense at around 50 mph. The noise gets higher and higher pitched and faster and faster as I speed up. I believe the vibrations are coming from the front I can slightly feel them via the steering wheel. The vehicle still drives straight. No clunks or screeching heard. The noise / vibration is worse while I'm making a right turn. The noise / vibration goes away when I make a hard left turn.

What I've tried:
I changed tires.
I topped off my transmission fluid.
I topped off my power steering fluid.
I pushed and pulled on the CV joints, no excess movement.
I pushed and pulled on the wheel, did not feel any movement.

Any ideas?

Sounds like a wheel hub issue, I had the same occurring with my 04 lss popped New hubs in and wallah no annoying sound. I'd check them by pulling them and twisting them to see if any grinding occurs. They take a t-55 torx bit and there is three bolts altogether.

Pulling as in removing them.

Thanks for the replies! I was thinking the same thing. My Moog Part Arrived today. I hope to pop it in tomorrow. I'll update w. the results.

Car had another problem today but I'll make another thread for that. Been 13 years with no problems now I've had many problems this year. When it rains it pours I guess.

Wheel hub/bearings are so crappy for these cars. The Moog fails for me once every 10k miles at least, but only on the front. Those Korean parts just don't hold up. Sometimes it seems like one side specifically and it's the complete other side.
The way to identify if a wheel bearing is bad is to jack up the car, and try to rock the wheel by grabbing the top and the bottom of the wheel. You will feel and maybe hear it knock or click slightly if bad. A good wheel bearing will produce absolutely no "play" when performing this test.
2002 Blue LS Sport Coupe 5-speed
My Paint Restoration Project -->
http://www.j-body.org/forums/read.php?f=11&i=170933&t=170933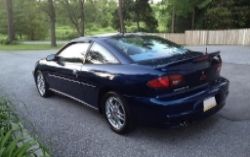 Thanks. Yeah anyone know any good parts that aren't made in China? I drive over 20k miles per year and a part that lasts only 10k miles won't work well for me. This is my first wheel hub I've got 170k miles on my car.

Unfortunately no not off the top of my head. Everything mass manufactured and sold at the typical auto parts retailers is all china and korea junk
2002 Blue LS Sport Coupe 5-speed
My Paint Restoration Project -->
http://www.j-body.org/forums/read.php?f=11&i=170933&t=170933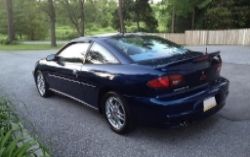 Timkin 'used' to make top quality hubs. Not sure if that is still the case or not. The last ones I bought did not look like those from the past, not where they marked the same. However, so far they have done good. Maybe 30,000 miles since I put them on. This was for a 92 though and I don't know if they are the same hubs used on the 3rd gens or not. Either way, I think they may be the best ones available, unless you can find new old stock GM. They are more expensive than many other ones, but from what I've experienced, they are worth it, unless you get something with a lifetime warranty and don't mind changing them regularly.

Another cause of the noise you are hearing could be much worse than a hub. Let's hope not, but it could be the differential bearing in the trans going out. Often they make the wow, wow, wow sound you mentioned and often gets louder when turning right. My 88 has a bad one and when I read your description, that was the first thing I thought of.

Sorry, it's Timken, not Timkin.

Thanks for all the replies. I finally got around to replacing the hub. The noise and vibrations are now gone. Feels nice and quiet now. Thanks all!