So while the WI GM-Tuners were having fun in Kenosha, for the August Meet, I was 3 hours away blasting down the
Dusty Trails
up in Oconto County. My ride for the day was a 1992 Polaris Trail Boss 350l 4x4 2-Stroke. We actually started up in Crivitz and headed south towards Breed. After 3 hours of riding we came across a mud hole that looked like it would be fun. The ATV I was using I was trying out to see if it was worth buying, so we wanted to see what it could do. Here are the pictures from that...
At this point I already made it across once with no problems. Let's see if I can do it again to get the pictures.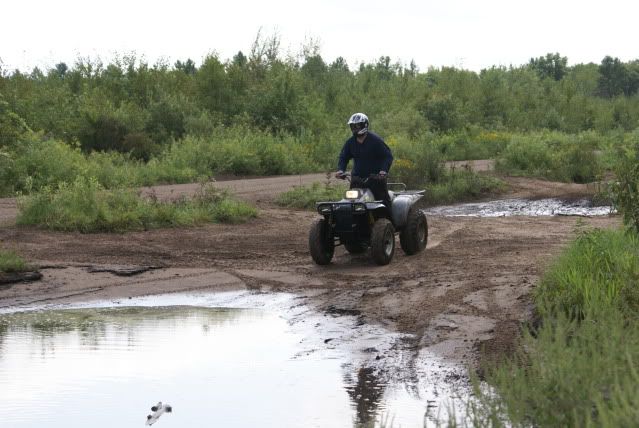 Splash down! The water felt really good since it was about 90 degrees.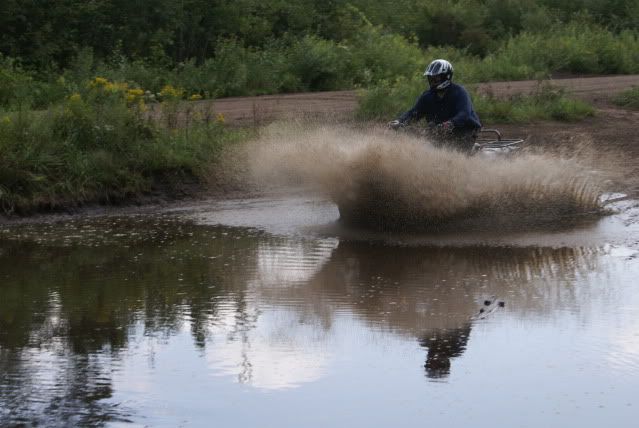 Still moving...hope I make it again!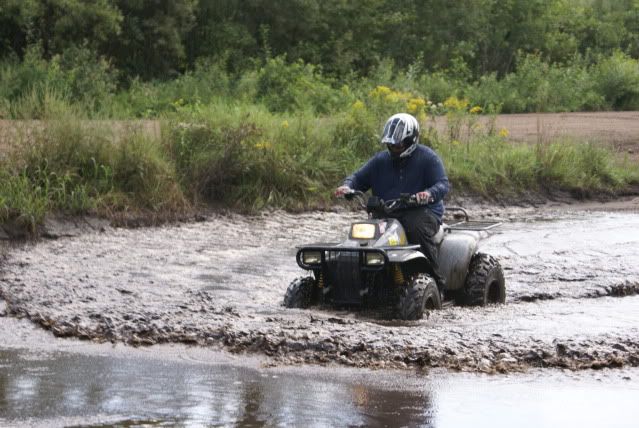 Doh! Not so lucky this time.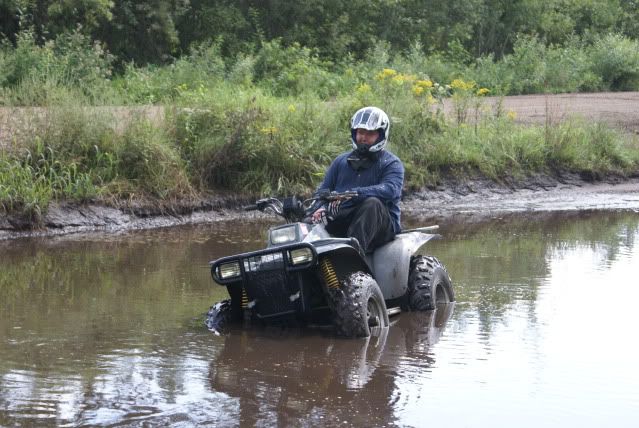 Time to be pulled back to land.
After getting it out I was able to restart it, which it wasn't willing to do while in the water. I let it idle and after about 30 seconds it quit. We checked to see if the carburetor was wet, but only the air filter got wet. Next we checked to see if the spark plug was bad, but with it under the gas tank we weren't sure how to even get at it. My cousin thought it might have dumped to much fuel in and flooded the engine, since 2 strokes do the regularly. (Anyone know?) What we ended up doing was towing the unit until it dried off and decided to work again. After about 2 miles of being towed it was operational again!
Once that whole ordeal was done we continued on to Breed for Testicle Festival! For a small town in the middle of nowhere there were plenty of people.
Introducing the reason we were drawn to Breed that day...deep friend bull testicles!
They are actually bull balls and were made by the "Breed Nutskinners" once a year just for this day. They cut the sack open and pull balls out. Then they slice then up like you would a tomato. Next they toss them in a beer batter and drop them in the deep fryer. I had some, but was glad to see that they were free since I'm not sure I would have paid just to try them. Ironically they taste just like chicken...chicken gizzards. They have the same weird aftertaste. Just to show that I did indeed try them here is my proof.
Along the those they had free corn, $2 brats and burgers, and $1 soda. This way you had more choices then just the Rocky Mountain Oysters. After we left we started to head back to my Uncles cabin up in Crivitz. The entire journey was about 60 miles and was a blast. As far as the ATV I had tried out if worked great, but needs new front suspension, seat, rear tires, and coolant reservoir.
My friend was asking $750 for it so we will see what happens. For comparison I looked around and the only compareable one I found was going for $1200. I would love to get it, but at the same time there are others out there. If anyone knows someone trying to sell one please let me know. The only conditions is that it has to be...
350 2-Stroke or 400 4-Stroke
Automatic
4x4