ok, so does anyone on here know if the deep blue light hid conversion kit from xtralights.com is legal in pa? if not, what can i get?(am i stuck to the white one?)...sorry...i don't even know where to look to find out.

Any HID kit in the stock reflective housing is illegal, No matter what color.
really? why? what is it about the stock housing that makes it illegal? thanks for the answer!

Blindin other drivers is generally frowned upon...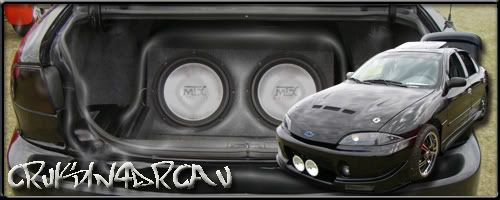 Dave De Stefano wrote:

really? why? what is it about the stock housing that makes it illegal? thanks for the answer!
The HID is well like the name is too intense for the reflective housing which is made for halogen bulbs, so it gives off much more unnecessary and undirected glare which can blind oncoming drivers and flood the drivers in front of you with light. If you look at cars that come with HIDs from factory they all have a projector type headlight which directs the HID like its supposed to. In some cases cars have HID reflective housing but its made for HIDs not halogens and the HID bulb is also special for the reflective housing.
Basically, HIDs use projectors to direct the light where its supposed to be, where it would be scattered everywhere in halogen reflective housing.
If you want a nice looking halogen bulb for your car look into Sylvania Silverstar bulbs or PIAA Extreme White bulbs, from what I know a lot of people use both of these.
i had sylvania's in my stock housing and they were very bright and looked great. as for HIDs blinding ppl. Jordan (cavracing01) was following me and his HIDs in the stock housing were so bright i had to turn my mirror and i didnt even have to turn on my high beams once cause his lights were so bright it literally went around my car and i could see in front of my car as if my highs were on lol. so dont do HIDs in the stock housing please lol.
You wont see anything anyway becuase blue fatigues your eye's naturally.
Plus blue, purple.. colored headlights looks cheep as piss and poor taste and the lumen output is worse than a stock bulb.
ANd they are illegal, and if you ever drive behind a cop you will be pulled over my buddy did, he go fined and was not allowed to drive his car until stock bulbs were put back in and inspected by the police, if he failed to comply= more fines, cops will generally not like you which= bad driving expiernces.
" Aint nothin' but a Peanut!"
ive had mine for almost a year now in black headlight housings (pretty much stock). no problem so far. i do have them aimed pretty well though. i had the silverstar ultra's before 8000k HID's and i could definitely tell a different between the 2.
"still want to smash that like the fist of an angry god"