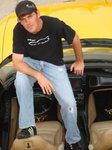 Thomas Anderson
evolcrx
Location:
Burbank, California
Joined:
Wednesday, February 12, 2003
Last Update:
Saturday, July 2, 2011
Email:
unlisted
Garage:
1989 Suzuki Swift GTi Hatchback
- gunmetal
2007 Chevrolet Corvette
- yellow
2005 Chevrolet Cobalt SC/SS Coupe
- *SOLD * another damn yellow car
2008 Ford Edge Sport SUV
- Blue
Birthday:
May 14, 1970
Gender:
Male
Marital Status:
Married
Ethnicity:
Caucasian (White)
Education:
College Grad
Occupation:
IT Manager for a respectable software co
About Me:
My name is Thom Anderson...yes like The Matrix. And oddly yes i work for a software company. But no I did not wear leather pants and say "whoa" a lot. I came to JBO when I bought a brand new red 5-speed 1998 Cavalier Z24 Fell madly in love with this goofy little car and it's serious low-end torque.
Being in the middle of the Southern California SCC scene i caught a lot of slack for owning a domestic, but that little guy got much respect.
When my friend offered to sell me his fully tricked out 1991 Honda CRX Hf that was his baby. he was selling it because he was having a <i>Real</i> baby (LOL) I jumped at the chance. I enjoyed it and moved from O.C. back to L.A. and on to school...my new money sucker. After a rough time going BACK to school I finally Graduated From USC with my B.A. finally (WOO-HOO!).
And decided to treat myself to a Grad present a new C5 vette. And my treated my girlfriend that stuck with me though it all with a wedding.
| | |
| --- | --- |
| Hobbies/Interests: | My family has been in the speed and hot rod business for years. My Grandfather Keith Baldwin co-founded "So-Cal Speed Shop" in Burbank in the mid 1940's. The Family now specializes in classic vehicle restoration and has it's own business. Growing up my life was all cars, and racing it was fun growing up a gear head, but I fell in love with computers and ended up not being in the family business day-to-day operations but do still wrench a lot at the shop. I still love cars, racing, wrenching, surfing, camping, off-roading, bicycling, hiking with my wife and our dogs, working on my house and just living a life worth living. |
| | |
| --- | --- |
| What's New: | Just now finding out it must have been a long time since i updated this profile. 80% of it was old and outdated. Was married last year. Just bought a new (to me) home, and in 2001 I will have my first child. |
Dream Car: Saleen S7