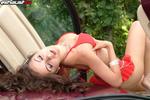 james gonzalez
spiney360
Location:
midvale
Joined:
Sunday, December 28, 2003
Last Update:
Wednesday, August 3, 2005
Email:
spiney360@hotmail.com
1989 Nissan 240sx

About This Vehicle:


well it is my new addision!!! and i love it allready!!!.... well unfortinatly i blew this car up... haha but r.i.p

Body Style: Coupe
Color: matilic black
Engine: ka24e(2.4ltr)
Transmission: Manual
Interior: tanish, black
Purchase Date: 01,16,04
Purchased From: some dumb asses
Build Date: um??....



MODIFICATIONS

Engine:

before it died
t25
log many
sr20 smic
msd pump
and that about it.. posobly high 14's but ran 15.2's on pump gas 6psi and fully stock form all interier.. oh and about the sleeper.. hehe it was true :D

Future:

going for the junkyard turbo set up baby!!!!!!
full suspension upgrade(coil overs
shocks and struts
extra...) trying to keep the look of a stock car... hehe can you say sleeper?