Hey all. Quick question- my VIN translates to a 2004 Chevy Cavalier, and that is how the car is titled and insured. But on the sticker inside the door, the date is 06/03. I thought that maybe it was a replacement door, but the VIN on the door matches the VIN plate on the dash. Were 2004 Cavaliers really produced 6 months ahead? I know that 2 months might be normal, but 6?
Also, I'm looking for replacement parts for my Cavalier. For example, a new hood. The hood is interchangeable from '03 to '05. Should I be looking for hoods on cars in the junkyard dated 06/02 and later based on the logic above? Thanks

mine was built in 03 but its an 04 they always start car years a few months in advance.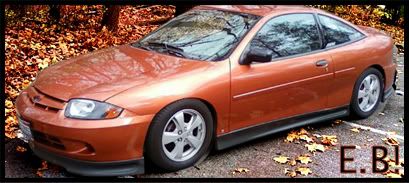 Sig thanks to bxmobkrazey on gmscf.com
Yeah thats normal. Example, the 2011 model year cars were out at the beginning or damn near close to the beginning of 2010. So nothing is wrong. IIRC my 00 was built in September of 99. Not as far back as urs was, but still made early. They just build them and get them on the lots so there the newest out there. So nothing out of the ordinary.
yea model year doesn't always reflect the production date. if u listen to the adds from dealer ships they always have their model year closeouts and new arrivals at the end of summer/early fall
I have a 96 dodge ram that was built in 4/95. My 03 cavi was built I think 8/02. I'd have to double check that though.
As for the hood, 03-05's have a different shaped hood. To me its pretty obvious, but yeah, I'd just look for something built in late 02 and onward.
03-05 Cavs are
very
distinctive from previous model years.
Just look for the
golden bowtie
up front, the
one-piece
headlights and the HUGE
gay lightbar
in back.
Run your VIN using the checker on www.compnine.com. It should tell you the assembly date.
Great, thanks for the info. I found a hood and painted her up. More details in another post...

Most model years begin production in June/July for August delivery date. Even earlier (sometimes April) if they are built overseas and put on a boat. This excludes new cars that come out extra-early before the normal August timeframe. You essentially got one of the first ones built off the line for that model year.
-----------------------------------------------------------------------
-----------------------------------------------------------------------
- Sold my beloved J in April 2010 -
John Lenko wrote:

Run your VIN using the checker on www.compnine.com. It should tell you the assembly date.
Mine doesn't have a build date