Hey guys and girls
This is Roger from Slammin N' Jammin
The show is back and bigger and better than ever!!!
if anyone remembers my show from back in 2005 at future shop it is back in hamilton and alot better.
i have alot of class and awards lots of events and spl.
To make a long story short its the eastern canadian finals for db Drag Racing its a street concept event if some one can post up the flyer it would be awsome email me and ill get u the flyer.
so_low_sol@hotmail.com
p.s first time in 3 years 5 foot award for best club
more updates will come and if anyone needs info email me
don't miss out august 23 2008 in hamilton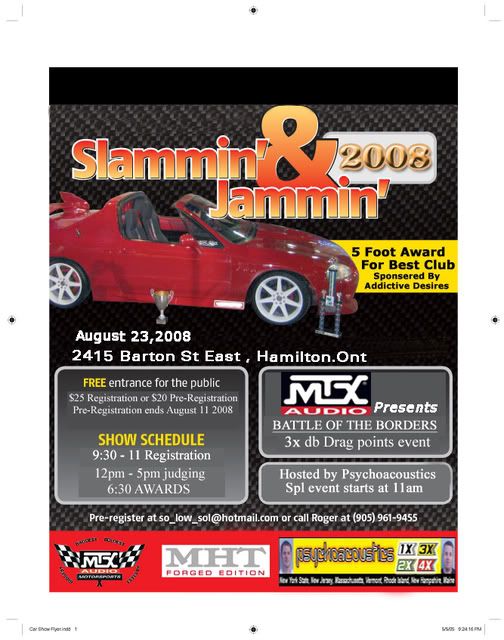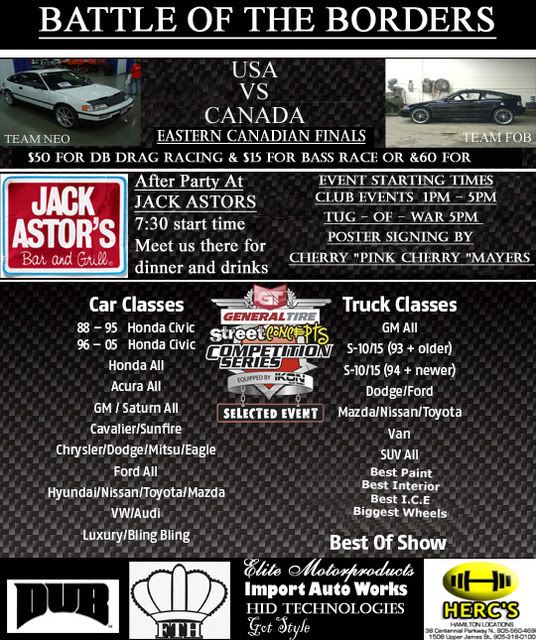 look guys and girls this is a event you dont wanna miss!!!
you want give aways well you got them how about stuff to do all day oh well you got that too. lets see a place for ur kids to play yep there is a play ground for that ok how about some ladies well i have on board right now canadas hotest the SLC modles and u want some AZZ how about the GOTASS GIRLS! look i have went all out this year i have vendors with awsome deals i got prizes i got events all day and i got the best show in hamiltons history why miss out!!!!
ive got for you club guys a 5 Foot award for best club ive got for you the eastern canadian finals i got for you CANADA VS USA for spl And well we all know who is gonna win that right?
i will keep you all updated on some of the sales and new happening at
SLAMMIN N JAMMIN & BATTLE OF THE BORDERS
THANKS TO ALL