If you're willing to pay for it for the ease of install then go for it. I'm assuming you're looking at the bare head? Make sure it at least comes with the valves since they're +1mm bigger. For port size, I'm honestly not sure which is bigger, LSJ or patriot stage 2. I just know that the LSJ head doesn't have the EGR ports below the exhaust valves, so you could port them bigger than an l61 based head.
"In Oldskool we trust"
Thanks man. Yes, they come with Ferrea Valves +1MM. Swapping in my cams, new full supertech 78# valvetrain, new rockers and head gasket plus ARP bolts and tune. Drive it around for a week and put her back under the cover. Fly back to Colombia with a smile on my face lol. That is the plan!
You're right, more meat on the LSJ to port out, larger exhaust ports too? Plus overall better sand casted head - all in all, I just cant use put in a new valvetrain in a stock head but I also don't want some average head either - I think the PS2 head is decent enough and the price is half of what FMSR sells their equivalent head for.
"FRIENDS DON'T LET FRIENDS DRIVE STOCK"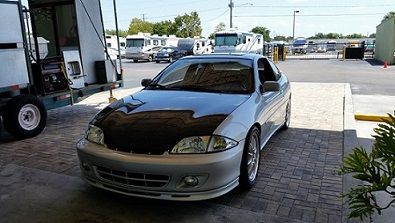 A tunable stand alone thats perfect for our cars, until someone gets megasquirt up and running properly is about $2700. I think its called Haltech. Its the one Fetter is running. Otherwise if you can wire in Megasquirt, then thats a WAY cheaper standalone.
As far as heads go. Its more work, and more cost, but im running a highly modified LSJ head and I wouldn't do it any different. Way stronger casting and can take a lot more abuse than the L61 head. But it also cost a lot more to build in my opinion. Lots of extra work put into it to get it to work using L61 cams.

HALTECH is what I was planning to go with (awaiting quote from shop as the whole car needs to be rewired). AEM EMS is another option but I may lose ancillary functions as airbags etc. IF this is not feasible, then I plan to adjust my VE tables with HPT and call it a day. Down the road I will try to extract more power using a standalone system.
I wanted to go the LSJ route, however not living in the USA (but my car does lol) was not easy to do. Too many fabrications (block off plate, ICM etc) for me to handle. I will and plan on settling for a Patriot Stage 2 head (I will swap out the stock Patriot valvetrain for a new supertech). The head does come with +1mm oversized valves. And like you mentioned, I would have to deal with a way to use my L61 cams (I have a stage 3) on the LSJ head too.
"FRIENDS DON'T LET FRIENDS DRIVE STOCK"