What is everyones opinion on turn down exhausts? or a turn down tip at the end of it anyways.
I have everything i need to redo my exhaust for i hope the last time. all 2.5 inch ressy, muffler, cat, all that.
my thought is to tuck it all up good and tight, and have the muffler up enough so it wouldnt be seen, and then just have a turn down take the exhaust out from under the car....
thoughts? comments? ideas?
I'm not a fan, but it would be a clean install, at least.
I like the stock "performance" look the best: a nice simple tip fit into a bumper cutout.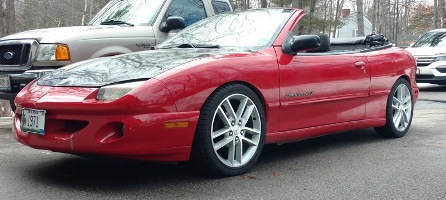 yeah there is not cut out on the sunfire though...I guess i could cut one out. but eh...I dunno. I do have a nice tip that has the pontiac logo on it. Its a solstice tip.
Side exit! I get what you're thinking but if it were my car I'd run it to the stock location.
"In Oldskool we trust"
I agree with Mr quick, however it is your car, if you want a turn down, then put one on. I just have a piece of straight exhaust pipe off my muffler that has a little surface rust on it. I never put a fancy chrome tip on my car, I wanted to give it a more factory look(minus the factory turn down tips) and have a little more of a performance grunt to it.



2000 Cavalier Z24 5spd - Intake, Dynomax muffler, Hawk Pads, Powerslot rotors, Sportlines/Koni reds, Neon Coil, MSD 8.5 Wires
2005 Mazda 3 GS Auto- Wifes car
2006 Cobalt SS/SC - Intake, 2.5" Exhaust, GMPP Brakes, Solid Mounts, Ported S/C - Sold
1991 GMC Sierra - Lifted on 38.5" Swampers, Too much to list off. For Sale

For a factory look that's pleasing to the ears on long trips as well as the track... check out my exhaust. YouTube. com/psthemi

Side exits will have clearance issues over speed bumps and you could run into issues like overheating your fuel and brake lines unless you wrap the exhaust and that will be expensive if you buy the quality wrap. Just my 2 cents.

never been a fan of side exit, I like straight out the back and on trucks I like 45* angle out the back. Not fan of the 45* angle fartcan some import owners do though, I think that looks dumb.


2000 Cavalier Z24 5spd - Intake, Dynomax muffler, Hawk Pads, Powerslot rotors, Sportlines/Koni reds, Neon Coil, MSD 8.5 Wires
2005 Mazda 3 GS Auto- Wifes car
2006 Cobalt SS/SC - Intake, 2.5" Exhaust, GMPP Brakes, Solid Mounts, Ported S/C - Sold
1991 GMC Sierra - Lifted on 38.5" Swampers, Too much to list off. For Sale