I just installed a 1997 Sealed Power solid roller cam ,which I had Delta Cams regrind for me, in my 2000 s10 LS! My truck started right up & runs great. No problems with idle & cam sensor. There is a slight lope to it because of the grind I have. Also I installed a p&p'ed head with oversized valves & Comp Cams #26981 spring, 1.65 self aligning roller rockers (0.492 lift @ valve), also I took apart my lifters & switched the springs to the LS6 lifter springs. I have pics & some other mods as well. I am gonna get dyno- tuned soon to take advantage of everything to the fullest. I just wanted to post this because most everything I've read says that the timing notch is different on the two cams but it is not. It is exactly in the same spot, just two different stock grinds on the cams between the two cams, '94-'97 to the '98 & up. So I will post the results when I get tuned, prob gonna be a few weeks or so... Well thanks to all the guys on here for posting all the info on the 2.2 which helped me with my cam swap & all the other mods.

Video of the lope?




"A car just isn't a car without a little blood, sweat, and beers." -- Shadowfire

Got a video of the slight lope. Just gotta figure out how to post it. Exhaust sounds good for a tutu!
Attachments

IMG_20140405_194347_629.jpg (1074k)

Upload the vid to photobucket then share the link.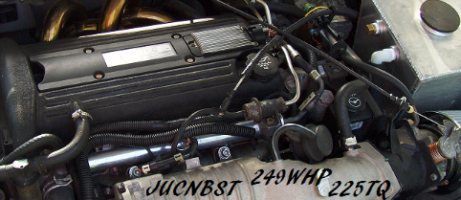 These are the specs that I had Delta grind the '97 cam core to:
intake advertised duration- 0.272
@ .050- 0.206
Exhaust advertised duration - 0.282
@ .050- 0.216
Int/exh lobe lift- 0.298/0.298
Lift @ valve w/ 1.65 rockers- 0.492
Intake centerline 107*
Lobe separation angle 110*
intake lobes were ground 2* advanced.
Exhaust lobes were ground 2* retarded.
Cam timing @ 0.050...
IVO (btdc): -4.0
IVC (abdc): 30.0
EVO (bbdc): 41.0
EVC (atdc): -5.0

Did you get it dynoed and tuned? I have a similar project I built for a circle track car. With a 97 head custom camshaft but I had to go to 24 pounds per hour injectors to keep up with the fuel requirements.

Being one of the few S-truck owners that not only owes-up to having the "Double-Deuce" power my rig, but also look for ways to improve on it's efficiency, I'd too like to see this video.

BTW: Thanks for posting the specs... The last DD-for a "Dime" builder I saw here bragged about how he showed-up many an import truck in his racing class with it, but wouldn't give-up the specs of anything he did to it!


Go beyond the "bolt-on".