So, just looking for some input. I am looking to purchase some valves for my Eco.
Here is what I have:
Supertech dual springs 78lbs (98lbs compressed)
PnP head L61
08-11 Revised Lifters (Not sure if they are different from 02-03 Ecotecs)
SS Followers (I think GM calls them rockers)
I am debating going with the Supertech Ti valves but I see more ppl running ZZP or LNF valves on here. What is the better way to go?
You drive a cavalier? Why yes... yes I do.
Tyler
I am building a head for my street engine and have ferrea valves.. This engine will not see more than maybe 4-450. My head is a different head but valves are the same. My head is a LDK ported head

When I was tuned last, I was told that I really need to get upgraded valve springs and retainers to pull more HP from my cams. Before I had a chance, I left the country to accept a position in Colombia! When I get back, that is my plan. See below for explanation I found:
"One of the most important part of cam functions is the spring pressures. We have had a lot of customers that have springs from Chevy V8, Fords & Chryslers - both in single and double springs. The problem with this is two fold, 1) the spring has to have the correct pressure and 2) the ability to not coil bind at high lift.
If your spring does not have the correct pressure the valves will float (= not allowing high RPM levels and loss of HP). If the spring is too strong however, then it can ruin your cam lobes (another reason we offer roller lifters made in USA, they are stronger and less resistant to wear & tear).
If the spring has the incorrect coil bind then you can drop a retainer and lose the complete engine!!! "
How do I figure this out? I have custom made cams and misplaced the specs. I am thinking of buying new cams (COMP Cams 113400 Xtreme Energy 264THR-13) to replace my current ones and want to upgrade the valve springs and retainers. Do I need to replace the lifters? What would be the correct pressure valve springs for these cams? Specs for the Stage 3 Comp Cams 113400 are:
Hydraulic Roller Camshafts
GM EcoTec 2.0L/2.2L
Lift: .456"/.453"
Duration: 264°/268°
Lobe Separation Angle: 113°
RPM Range: 3500-8000
Tuning Required
Thanks!
"FRIENDS DON'T LET FRIENDS DRIVE STOCK"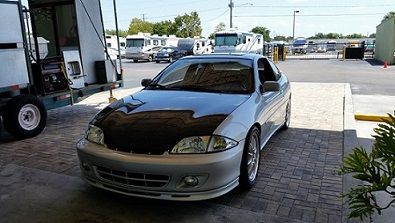 Hey 02ECOTECIMPORTKILLER,
We sell CompCams and work with a lot of upgrades and modified engines. If you need some Tech Help on the best route to go with your cams/springs/retainers, give our Tech Dept a ring at (603) 378-0090. They can help you out!
http://www.chevycavalierworld.com/compcams-camshafts.php
CCW
ChevyCavalierWorld.com
603.378-0090