i have a 02 2.4 sunfire coupe. i want to puchase a header online for my car and all of them come with a 2.25 outlet im guessing after the downpipe on the 4 1 header. with that being said i want to redo my exhuast since stock is 2". my question is should i make it 2.25 all the way to the back or will i get better permance with a 2.5" all the way after the downpipe... ive heard mixed opionions here and there bout 2.5 being too big and will lose trq and hp since not enough back pressure. also i need to put a flex to prevent breakage since mine didnt come with it any opionions on how long or short the flex should be and does a flex affect hp or trq in anyway. thanks all opionions welcome...

Stock pipe size is 1 7/8" if I remember correctly. While I agree with tink on the back pressure, exhaust gas velocity still needs to be maintained. On FI motors it isn't really an issue, but on an NA motor loosing EGV will reduce the scavenging effect which aids in removing exhaust gas from the cylinders. An exhaust system with a 4-1 header will be more prone to scavenging loss than with a 4-2-1 header since the runners are collecting in pairs at a smaller pipe size before they dump into the larger collector. For an NA, 2.25 and 2.5 work fine, but if you're not going to get the car tuned 2.25 is the better choice IMO. If you want to free up some power make sure you get a good high flowing cat, this will reduce system back pressure (which is good).
ya you right thats why upgrading my exhuast pipes to a bigger size but from what i read and know still need some sort of back pressure. right now i have open header working kinks and to me runs slower than with regular manifold on stock 2" pipe. so thats why was going with 2.25 since thats what the outlets at after downpipe but want opionions if 2.5" would be too large.

ok thanks and ya i heard 2.25 would be better to keep the pipe all the same diameter and yea i already have a high flow cat from magnaflow on stock exhuast along with the magnaflow muffler. as for tune i already have a mild tune on it since that governer would piss me off so lucky now can go faster but do need retune with new exhuast from what i heard but does it matter even when i retuned with stock 2" with header? so you think in ur opionion 2.25 is better for my car than 2.5 since ive heard go with 2.5 since its a dohc 2.4.

Anyone who says you need backpressure doesn't understand fluid dynamics. What they're confusing is the fact that your exhaust needs to be properly sized for the RPM range you want, so that the exhaust can flow freely enough, but also maintains velocity throughout.
As for matching the pipe, that's correct. You will do better with the 2.25" that matches the output of the header than jumping up to a 2.5", because you can create turbulence at the transision point if it's not done correctly.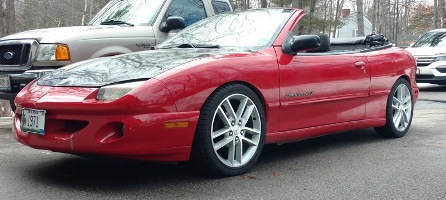 ok thanks for the comment but if i find a header with a downpipe thats 2.5 than it would be better to run the 2.5 set up to the back in ur opionion.

marco mun wrote:

ok thanks for the comment but if i find a header with a downpipe thats 2.5 than it would be better to run the 2.5 set up to the back in ur opionion.
Yes, matching the downpipe is better than mismatching it, even if the size isn't optimum. 2.5" is a popular size on our cars. It's not the optimum size for street driving, but it's decent. 2' would actually be better for normal driving, as it gives you a little more breathing than stock, but still avoids losing velocity (and torque) at lower RPMs. It ultimately comes down to what other mods you plan on running. If you're changing your cam, boosting, etc., the larger will work better. If you're just doing exhaust and smaller bolt-on mods, you don't need a large exhaust, you just need a free flowing one with less restriction.