I have a fairly new LX9 swap that I started out with the OE injectors and it ran perfect up to 6200 RPM no issues what so ever.

I did some data logging with HP Tuners and found that the injectors were at 120% around 4K RPMs.

Decided to put in some 36# GTP injectors cause they're dirt cheap. Flashed the ECU with the new injector numbers and it runs perfect until i'm WOT above 5K RPM it doesn't always do it but it does it enough for me to be concerned especially since I am spraying a 100Shot at this as well.

Above 5K RPM it will start to break up sometimes missing and spitting. NO CEL nothing. I've replaced the crank sensor behind the crank pulley, Gaped the external crank trigger to .020 again for verification. Replace the oxygen sensor (it was old anyway) Closed the gap to my plugs from .055 to .040 (plugs look a touch lean to be honest)

I originally tried the 33# oddball GTP injectors and it had this same issue so I bumped up to the standard 811 GTP injectors everyone uses to be sure I didn't have a bad injector.

What am I missing? Why is this thing breaking up after an injector swap?

Lx9 is a 3500. What pcm are you running? you may have bad injectors. Did you make sure they are the same spray pattern? GTP is a 3800 so they are probably a different spray pattern.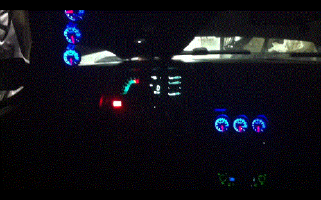 On the inside my car looks like a fighter jet.