looking into picking up a cold air off ebay but the freaking brand name ones r INSAINLy priced...came across this lil gem on ebay...anyone have any comments or experience with them? would i need to keep that ugly plastic box in the fender well with this setup?

OH FORGOT A LINK TO THE EBAY KIT!
HERE
It's an aluminum tube......with an air cleaner at the end. Not much even the top brands can change about an aluminum tube. Most people get those and replace the air cleaner with a quality air cleaner, be it AEM or K&N. I'm not even going to touch on the intake bong inside the fender, that should be painfully obvious.
Go Ebay man. I think i paid about 200 for my AEM. Not sure how much they are now on Ebay.. 140? He's right, get the correct filter. In my VR6, it was night and day when I switched to a K&N filter. I switched to a WEAPON R sponge filter (cost $50) and replaced my stock AEM filter with this one for the cavy.
See link:
http://www.weapon-r.com/product-catalog/35-dragon-air-filters
"FRIENDS DON'T LET FRIENDS DRIVE STOCK"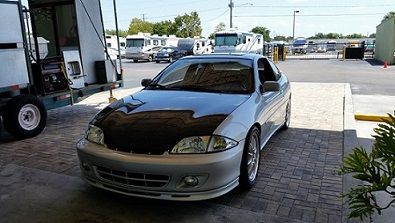 We have Performance Intakes we design ourselves with DTS2 for only $199

http://www.chevycavalierworld.com/ipp-intakes.php
IPP/CCW - Performance Intakes
Cavalier, Sunfire & S10 PU 1998+up
IPP/CCW introduces the BEST Intake for your buck!
And it goes perfectly with our brand new Throttle Bodies!
Don't over pay for plastic name brand systems... or settle for typical eBay cheap systems. You can get quality, affordable, top end parts all in one package!
-- You WILL feel gains of around 10 horsepower!
-- You WILL hear a throaty improvement in the sound of your car!
-- You WILL see an improvement in the look of your engine bay!
This product includes:
(1) Top quality mandrel bent, tig welded, and polished aluminum intake tube
(1) Silicone transition coupling
(3) Race inspired t-bolt clamps
(1) High flow cone style air filter
(1) PCV filter, and all mounting hardware.
This product also features heavy duty 1/8 inch thick mounting brackets and .080" walled aluminum tubing to insure durability!
Part #: IPP-CAV-INTAKE199
Price: $199
Questions? Call 603.378.0090 or email info@chevycavalierworld.com
- CCW
- JB