Wanted to see if an intake would do anything at all for the little 2.2 non eco. Had some spare intakes off of other cars finally found one that would fit. It's the lower half of a full cai off a Toyota matrix. Cut the end off and used all my readily available rubber attachments and fashioned this little crazy ghetto hot air intake lol. No noticable performance increase but it does seem to have a slight throttle response and when I punch it to go around someone it sounds way better and almost seems to pretend like it wants to go faster lol....oh well it was free so why not.
Attachments
Dude this car is painfully slow lol but I can't bring myself to tear out the motor and drop in the eco I got until this one stops running. I mean why pull out a good running motor till you need to. Was gonna maybe turbo it but I decided not to sold the turbo to my brother for him to try and boost his s10.

I agree on not turbo'ing it. You have to decide which platform you wanna go with and then build you goals from there. You have options these days with eco hybrid motors out there (LSJ head/LE5 block).
How long you gonna wait until your OHV stops running? Don't you have the need, need for speed? lol
"FRIENDS DON'T LET FRIENDS DRIVE STOCK"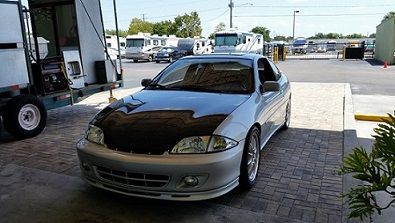 Yeah I agree that's why I decided to start building up the eco while its on the cherry picker. I have the need for speed lol but with my 3 bikes ( nothing special just love motorcycles there fast enough lol ) im good for now. But....having said that im getting bored trying to pretend like I.Can make the non eco fast so it could be any weak now.


When the hell did wearing your sisters pants to school become cool....

Thanks man your car looks great. Can't wait to get lips all the way around having a very difficult time finding them. Def building the eco I've already cleaned it has the head ported and polished and painted various things running out of money lol


When the hell did wearing your sisters pants to school become cool....

I'm not sure why people think taking the factory cold air system off and replacing it with a warm air system is going to boost performance. I would have left it alone and put a quad4 56mm throttle body on it.

You almost have to relocate the battery to get a decent custom intake working on a Cavalier, and even then you don't have a header and if you're bringing more air in you gotta get that air out faster too.