So I bought this fuel pump off Racetronix and the harness, and it seems pretty straight forward.
But the harness has a few plug'n'play connectors (hopefully that are literally plug'n'play for the Cav). There are also two wires, one for Chassis Ground and one for "Alternator Output".
Any of you guys install this yet, and where does that Red Alternator Output one connect to? Pic below.
this is the only thing holding off my install, as i dont want to get all the way done and have the tiny issue of connecting the harness to something wrong and frying the whole harness. shouldnt it just need a power?
04 Cav. 2dr. 5spd. My DD. 'Nuff said.
The red alternator ring goes to the terminal on your alternator. You could also hook it to the + side of your battery since they are connected anyways.
12.6 @ 114.6 MPH
I was kinda thinking the POS+ on the battery..but didnt know for sure since it specified Alternator Output.
thanks for your quick reply!

now to figure out how to get those rivets off holding on the heat sheild over the tank..and im able to start dropping it lol


04 Cav. 2dr. 5spd. My DD. 'Nuff said.

I would put it right to the alternator. Thats why its marked for the alternator, its easy to get to. The connectors are VERY straight forward. one can only plug into one and the other can only plug into the other... one thing gm did right actually...
its VERY straight forward.

yeah, now im running into the tank issue though, cant drop it.

I removed the strap on the passenger side, and got the bolts out of both straps, but the driver side strap is rivveted to the heat sheild. Id rather not tear into this, so I thought maybe I could wedge the tank loose and to the passenger side and slide it out.

Problem is, ive tried to lightly pry down the gas tank to see if any factory adhesive is holding it on but it doesnt appear to budge. I dont wanna pierce into the plastic tank.

Plus i dont have a lot of room to drop it and get to the wiring but Ill figure that out when its dropped.

so anyone got a link to a how to on dropping the tank with pics? not just "remove straps" lol.

Thanks!


04 Cav. 2dr. 5spd. My DD. 'Nuff said.

You should be able to slide it out passenger side. I know on my car I dont have that stupid heat shield there anymore. It was in the way and rattled. If I were you id just drill out the rivets and go from there. Just be careful when you drop it down so that you dont break any connections that run to the fuel pump. found that out the hard way.

I ended up drilling the one rivet attached to the driver side strap, and it fixed my problem of it being stuck. I have pics too, but I ended up having to pry certain parts because there are two places where the factory has adhesive stuff.
now I cant get the electrical plugs off, its on the ground, but still not enough room to see HOW they are connected, each one is a different damn connector lol. one is just a clip and it pulled right off, but the 'white' one has some sort of blue lock on it, before you can flip the clip. i cant see how its in there even with a mirror. trying to find a reference somewhere of a pic.
also the other big circle part on further back turns but wont pull off, gotta figure that out too.
getting this back in with 1/8th a tank is gonna be fun

04 Cav. 2dr. 5spd. My DD. 'Nuff said.
well i keep answering my own question after being frustrated, going back, and just spending some time looking at it.
now I F*cked up.
Got the connectors all undone, but the fuel filter line, i think fuel return line, and another one go into the top of the fuel pump top. I think yuo have to undo the lines at the spot higher up (example, undo the line at the fuel filter) and not at the top of the pump.
well pulling on one to try to 'turn' the top of the pump lid, i broke off that plastic part that the fuel filter line goes to on top of the pump. FAWWWWWK.
anyone know if its easy to replace just that top part? or do you have to buy a whole pump assembly just to get it? ill snap pics in a bit.
SEE RED ARROW, that nozzle broke that goes to the fuel filter line...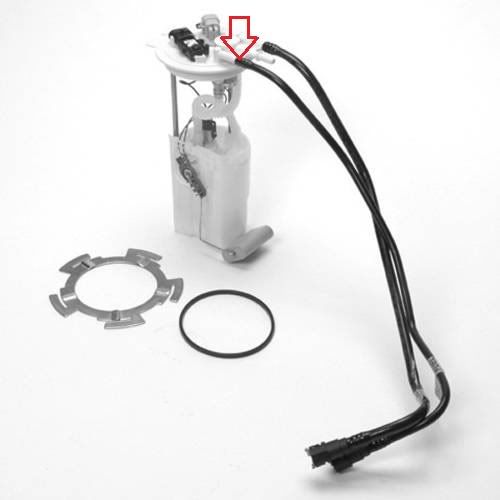 Edited 1 time(s). Last edited Saturday, March 10, 2012 3:05 PM
04 Cav. 2dr. 5spd. My DD. 'Nuff said.
yeah thats where mine broke too. ryan epoxied it in for me but dont think it worked. i get an evap code every now and then. darkstars did his sisters pump and bought the whole assembly, so i got her old one, going to swap it out when i get a chance.

so...you have to buy the entire assembly...which doesnt come with a fuel pump right, just the housing? because im about to hit up the parts store for the fuel line disconnnect tool, my previous method isnt working.
got the whole thing apart, but need to disconnect one line (since i broke the other lol) and i can start working on my pump and wiring..then...its a matter of when i can get that part

04 Cav. 2dr. 5spd. My DD. 'Nuff said.
good news is its all out, tank is in my garage now waiting for a new pump assembly to insert the Racetronix into. This means Ill have two perfectly good working stock pumps, that will collect dust lol.
Pick'n'pull, here i come

04 Cav. 2dr. 5spd. My DD. 'Nuff said.
how do i merge this with my other post?i realized after making this i have my other pump thread.


04 Cav. 2dr. 5spd. My DD. 'Nuff said.