Just picked up a 1998 2.2 5 speed cavi the other week. Great beater car. I'm looking to make it a little more fun as a beater. So in all regards can someone point me in the right direction for some mods?

Throttle body
Intake manifold
What header to use
Rocker mod?
And lastly who can send out a mail order tune?


I'll do my own work to the head when the time comes

Anyone know of any direct bolt on swap parts from other cars that increase performance. No I will not put money into this car that involves engines, turbo, SC or n2o

Thanks in advance!

More fun?

Suspension, short throw, catback, intake.

More power without a decent amount of money? Not on the ln2. Quite honestly don't bother lol. Na they're weak without a good bit of money.




"A car just isn't a car without a little blood, sweat, and beers." -- Shadowfire

I'd just like a little more pep out of it. I don't need to lower the car. Hence why I asked what parts most would go with or if anyone can tune a pcm for me and send one through the mail. I came from the 3800 world, built 2 gtps and had to sell due to my job requiring me to drive 200 plus per day. If I could maintain the 34 mpgs I average now while adding some more power I would be happy. I'm not looking for a race car just something to help with accelerating or passing someone.

Well, then get an intake (cold air), exhaust and header (assuming you can do most of the work and buy these items from Ebay), you are still looking at $500 + for 15 HP or so.
It's like Matt said, more power without decent amount of money is simply not possible. Difficult to buy an ECU without doing some modifications first as the mail order ECU's that I know of obviously require adjustment to the air, fuel etc.(usually after you have installed some basic bolt ons).
Link to a CAI. You can buy a WAI for a few bucks less, but in my experience with my motor (ecotec), I had much better pull in high RPM with the CAI (passing someone like you said).
http://www.ebay.com/itm/98-02-Chevy-Cavalier-2-2L-Polish-Cold-Air-Intake-Stainless-Steel-Air-Filter-/151651403822?fits=Year%3A1998|Model%3ACavalier&hash=item234f20c82e&vxp=mtr
"FRIENDS DON'T LET FRIENDS DRIVE STOCK"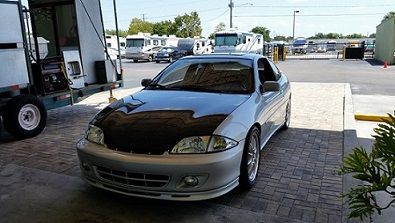 Unfortunately you're just not going to get that with this motor. It's not a stock boosted car that sees substantial gains from a tune. After a LIVE tune you could possibly still be in the double digit whp numbers.
Throttle Body: 2.3 H.O. quad 4 motors have a 4mm larger throttle body that is basically bolt on. Not worth much imo.
Intake Manifold: no one makes anything that will give you positive results being naturally aspirated.
Header: Pacesetter is the best option. It may run a little better. Be aware that it's not bolt-on at the downpipe and you'll need to weld it in before the converter. When you see the rest of the exhaust piping you'll see why the header alone would be kind of pointless.
Rockers: Here you go..
http://www.j-body.org/forums/read.php?f=2&i=348365&t=348365&p=1
,
http://www.j-body.org/forums/read.php?f=2&i=480628&t=480628.
You should know that the stockers are not roller tip but are rollers at fulcrum where it matters, so they're already pretty good. They're also 1.54 ratio, so 1.6 rockers don't do much of anything for you.
Tune: No one. And frankly, you'll gain next to nothing out of it being that it'll be a canned tune anyway. Not to mention that not many know how to tune these cars properly in the first place.
The head is the place to start. It needs serious port work to flow anywhere near decent. That being said, it's still not going to be a peppy rocket ship with a good head and exhaust. You really can't get these motors to move without boost.
"In Oldskool we trust"
There you go - its not worth dropping a lot of cash in basic bolt ons for measly power gains, but that is your choice.
IMO, keep the motor running strong (good oil, plugs, fuel and air filter, tranny fluid change etc) and drive it from point A to B while saving miles and wear and tear on your other ride.
I have a VW VR6 Jetta and I bought a "fast" beater because I wanted to have the power to do as you said, pass someone etc. This car, with just a K&N air filter and MSD igntion wires, freaking pulls, especially on top end. I keep it stock, running well with all the aforementioned maintenance and is a joy to drive (torque monster). My buddy with a lot of bolt ons on his 2004 GOLF GTI (180 hp stock) can't keep up with me on the highway. You have a beater that isn't worth putting any money in performance upgrades. If you had a stock ride that was already fast and had potential (like my VR6), I would say otherwise. Whatever you choose to do, good luck.
"FRIENDS DON'T LET FRIENDS DRIVE STOCK"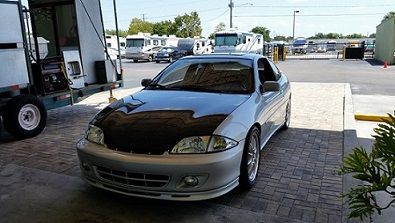 Driver experience and power are not always synonymous
The things I mentioned are what made my na cav fun


I had the same motor. Every bolt on and beadwork and compression and tune and it STILL was a very minimal improvement over stock. Pep=boost on the ln2 personally.




"A car just isn't a car without a little blood, sweat, and beers." -- Shadowfire

"I will not put money into this car"

Kinda makes it hard to make it peppy without money.

I'd boost a stock ln2 before swapping in an l61 if you're not looking to break records. Even then, if you shove enough air through the ln2 it'll make power.

You can't have your cake and eat it too. Not willing to put money in and wanting fun by way of more power just don't work.

I thought about swapping an l61 twice. Almost did it twice. Then I realized that you don't need it to be fast. Ln2 was a tad different and it was faster than a large percentage of the Dohc cavs around. Being different was kinda what I was going for; and a Dohc seemed too easy to me. Lol I know that sounds a bit cliche maybe but the car I had did its own talking.

If this guy wanted to put money into his car I'd still suggest at least suspension and short throw first. Going fast on stock suspension is real sketchy. Short throw increases driver fun (did for me in my cav and my mustang now). After that I would suggest turbo parts for an ln2 or hell eco swap it with bolt ons and add a clutch at the same time so it's ready for more power down the road.

I have a lot of ideas on what I'd do if I were doing it but those take money lol




"A car just isn't a car without a little blood, sweat, and beers." -- Shadowfire