anyone from moncton newbrunswick?

From Saint John. Running a 1986 Cavalier RS Conv.

I'm from Truro, NS, but I visit Moncton quite a bit.

Is anyone from the Maritimes active with their cavaliers anymore?
I'm running a 90 cav z24 with a 3400 swap, along with a 82 v8 hatchback

for sure here in HRM there's a few of us left kickin around lol
Skr8 Goodz in tha hood
Just got back from moncton, I'm 30 min north of Miramichi.

Hi Guys...I live in Truro. I have a 2002 Z24 5sp. Slowly modding it as $$$$ allow. Working on suspension and handling upgrades next. Kevin

Hey guys, in miramichi, got a 2001 2door 5 speed us import cavy. Painted black and white. Eco swapped, BMW RIims, cat less magnaflo exhaust, wai
Tein super street coilovers. Manual sunroof added, very well maintained, new clutch kit+master, rear disc brake conversion on order for the summer.

hey guys, from lantz ns here. 04 sunfire,coupe, small mod list but its my daily driver and doesn't get anymore mods, i just drive it and enjoy it.
From the Annapolis valley in ns here. Was in Mirimichi with the sunfire for the team race in September.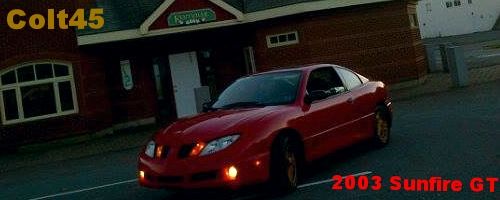 45 mins north of moncton, just got back to the site today