Orlen, that's certainly a lot more elegant than the loop made with several wire coat hangers, used in conjunction with a sledge hammer, that I've been using for years to pull axles!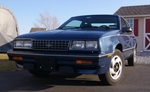 1987 Chevrolet Cavalier 2-door coupe
with 1996 2.2L MPFI
Orlen, That style was my first choice, but apparently was more than a week away, to get from the store I went to... I'm sure I could have driven all over town and finding that style, but then I'd also need to find an extension (for the passenger axle, since I have the LOOOONG passenger axle)... This was a day away and I figured I'd give it a try and I'm happy that I did.

Thanks for sharing the pics Orlen! I'm going to have to make one of those. The pry bar approach is usually hit or miss: they come right out or they're a huge pain.
Quote:

What kind of problems have you had dravesa5 to encourage you to change heads over the years?
Mostly cracked heads, and a few headgaskets. Either you have a good one and they last, or they seem to keep cracking. The web between the intake and exhaust valve seats is very thin. I had a string of cracked ones probably due to cheaply remanufactured heads (also got one with a bad valve guide) before I figured it was time to take them to a good engine shop to get them done instead.
86 Skyhawk wagon 1.8SOHC • 93 Sunbird two door 2.0SOHC • 93 Sunbird four door 2.0SOHC
I read somewhere that some heads are more porus than others on these ohc's due to casting problems.
148 k miles on mine , probally the warm weather and no thermostat has saved mine.

Doug in P.R.

92 Pontiac Sunbird LE, 2.0, AT, Red / Black with Grey 155K miles. Hurricane Maria Survivor ! ( It takes a licking and keeps on ticking ! ).....in Salinas, Puerto Rico!
Update. Days 6 to.... Let's say... 11.
Not a huge update, hence the many days in one update.
After getting the engine out most time spent on the car has been cleaning the engine bay. I'm very happy with what I've found under the grime. Very solid and clean structure.
I've also started on the AC conversion, which requires firewall modifications. The air passage opening had to be made larger and I had to add the hole for the AC lines to connect to the condenser. There are a couple mounting holes that had to be added. I also need to add a couple studs. I wasn't going to be happy with just cutting the openings, so I undersized them and then folded the edges over similar to how GM did it. There's still some finishing of these edges that need to be done, but pretty happy with so far.
Once I get the AC modifications done I can then move onto the dash and related electrical work needed.
Attachments

Day061105.jpg (62k)
Day061104.jpg (77k)
Day061103.jpg (86k)
Day061101.jpg (80k)
Day061102.jpg (85k)