They say that things come to those that wait. Well this time it involved a whole lot of it!
I been keeping an eye out for these darn wheels for many years and today was a sweet moment. A month ago the local yard posted a 2nd Gen up that I almost passed by since there was nothing to catch my eye.
Later that day I took a 2nd look and was 1st surprised to see a Wagon but then someone had rattle bombed it in primer. After a few minutes I finally noticed the wheel on it
So as I usually do I kept a very close eye on the website waiting for the day they place it in the yard - and today was the day. I hopped in the old '86 Ranger and made the run to Roanoke to see about getting them. Even though everyone these days are into 17" and up you never know when there just might be an old school like myself hiding in the woodwork somewhere. The trip was smooth and next thing I knew I was walking down to where the wagon was sitting. Took a few minutes to wipe rub my eyes and scratch my head.......all 4 were in there ......all 4 had the center caps.....and in the front seat lay all 4 trim rings.
Man at the counter added up the parts and the total for my day came to just $80. The rest was a simple hauling job back to Covington. Wheels are now stored in the shed waiting for cleaning , probably paint and some new tires. That part of the wait will be a whole lot easier, that's for sure!
.
Orlen, those are nice! Didn't GM also use these on some mid-size Oldsmobile sedans, but with different center caps? Something like a cutlass ciera maybe?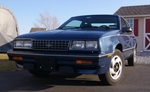 1987 Chevrolet Cavalier 2-door coupe
with 1996 2.2L MPFI
You are exactly right!
I have see these on the X , A & J bodies and I am sure there are a few more out there - think I also saw some on the L bodied Baretta too. I also believe these were in 13" and 14" sizes if you look far and wide. Buyer beware though..... There are diferences in bolt patterns out there. I came across a set on a later A Body a couple of years ago and was running for the counter - then something made me take one and give it a try on a cavalier - it didn't fit.
It is enjoyable to search fo the hard to find gems out there. Thank God I don't have lots of cash and property - I'd be an awful trouble....

.
Great save, I always liked those rims. Are they going on the wagon?
Nice wheels! Those will look good once they're done.
I would kill for that matching set of wagon taillights

• 86 Skyhawk wagon : 2.0SOHC swap, Megasquirt, 20SEH cam
• 93 Sunbird sedan : 2.0SOHC, Microsquirt, ported head, 10:1
• 88 Sunbird coupe : 2.0SOHC, turbo project car, giant tires
Thanks folks!
John at this point I'm just tickled to get these. After I have some time to clean them up I might use them on the '94 RS Sedan. I have been running a set of the 14" 1st gen Z-24 alloys on it this summer with 195/70/14's and have enjoyed them so .... tentively I'd say that might be their destination but I will certainly try them out on the old Wagon too. LoL....I have a bunch of the old 13" steels I have been using for years on the Wagon - just like the way they stand out these days.
Drivesa5- I will be heading over there again next month when they have their 1/2 price sale - and I will try to remember to take a look for you. That wagon is right along near the path the Olds Ciera sits I have been getting a lot of parts off of. I doubt they will be gone as I think I am probably the only Cavalier Wagon owner in the area around here that cares about his car. There has been so many 1st Gens around here over the past few years I have seen - all of them without exception were just being run into the ground. 1 by 1 they have dissappeared. Currently there is a 1st Gen White Skyhawk Sedan running around town and the older guy just lets it get worse and worse - it has rust on the rear near the lights and everytime I see the thing the rust and the trail it leaves running down the rear just gets worse. The only ones that really get taken care of , is the Z's and the Verts.
.
Thank you I'd appreciate that!

Too bad about the Skyhawk driver ..


• 86 Skyhawk wagon : 2.0SOHC swap, Megasquirt, 20SEH cam
• 93 Sunbird sedan : 2.0SOHC, Microsquirt, ported head, 10:1
• 88 Sunbird coupe : 2.0SOHC, turbo project car, giant tires

Love those rims - I had a friend that had them on a Celebrity Eurosport back in the day.
Dang seeing this post still makes me wish I didn't miss out on buying a Cavy wagon in 2000 I seen at a used car dealer. By the time I drove back to it after work it was already sold. It was a nice red one and had these wheels too.