Hi!
I was just looking at removing and replacing the
window sweeps on my Ď86 and I am hoping someone can give me a tip on how to get the rear most screw out that holds it in.
Itís blocked behind the window glass and I cant see a way to access it without removing the window.
Thanks for any help!

Hi Ray! Well, you don't have to take the glass completely out, but you do need to open the door panel. There are two ways I've gotten it to work: remove the rubber bump stop at the bottom of the door and the glass will go down just far enough to get that screw out. The other way I've done it is to put the glass all the way down, remove the two bolts that hold the glass track in at the front, and you can tilt the glass a bit to get that back screw out.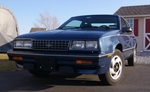 1987 Chevrolet Cavalier 2-door coupe
with 1996 2.2L MPFI
Hi Terry!
Thanks for the advice.
I have the panel off ,
Iíll try moving the glass stop first.

Terry,
Pulled the rubber regulator stop out and
the window came down just enough to get
that screw out.
Thanks Again!