I'm looking to lower my 2003 Cavalier and need some idea's. I was going toward coil overs but wanted some other opinions.

Koni Red's and eibach sportline springs. Nice drop, and Koni will actually warranty a drop that low. I've had the shocks for going on 10 years now, (maybe around 20k miles) and they've help up pretty good. Drop looks nice. Other nice options would be Tien coilovers or others.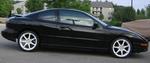 What's the story on Eibach Pro Kits?

Thanks everybody, definitely gonna go with one of these brands, i'll post pics when I do get them.
Attachments
Runnin eibach ground control coilovers on kyb agx struts. Handles nice, decent drop but a lil bouncy. Expected with lowered cars but if i had to do it again id go with a full coilover setup as mentioned above like bc or tein


ReD RaiN

Im static. 2.5" lowering springs.