Christian S wrote:
that's crazy cause the control arm is the part being swapped... it looks like the top is out more... and bottom is same if not in a hair line more! or is that cause the alignment needed that ? but the way it is now looks like you will kill the outer edge of the tires!

great write up though , lots of info and I like the step by step process you documented!

I plan to use a set of ground control camber plates ( solid) so it will give me full adjustment on the top! but if I go with the aluminum lower arms I will take a stock j body arm and probably trim some off the aluminum! I would almost be inclinded to shave a bit more off from stock pulling the bottom of the whole assemble in more so that when its lowered it can be set correctly and be tight into the wheel well! I hate when the rim and tire sticks out past the fender , I like it tucked

I also have ground control coil overs on koni yellows to put in too ( same set up as on my SHO) I got them for cheap! so why not . currently I run the sportline kit with agx struts! ( very tight) but I know the coil overs will be more aggressive .

again excellent write up! ( are you in Toronto? or usa? )
I'm in the US. I also noticed that the top of the tier was further out. I may have just needed an alignment from the before picture.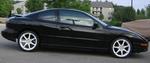 99LN2 Cavalier wrote:VTLoki,

Thanks for the pics. Not bad at all! Were you able to get that transmission leak resolved? I am assuming that you stuck with the stock J-Body control arms then correct?

I am not sure what year your Sunfire is. Is your 5-speed the Isuzu or the F23? I have the Isuzu in my 98 and plan to keep it.

My own Grand Am Control Arms are bead blasted and wating for black powder coating. They look pretty good.

plaz
I kept the grand am control arms. I think the trans leak is one of 2 things.
1. I'm missing a c-clip on the part of the axle inside the transmission.
2. It got popped out when the control arms were installed, and just needs pushed back in.
I don't think it's the control arms, given many people have run them unmodified, but maybe they had a 2000+ tranmission.
I have the isuzu MK7 5 speed transmission. Not the getrag. I did a bunch of research around the NWF swap, to switch my steering knuck and brakes to the N body /F/W body ones. and I do think i'll need to make a hybrid axle for that. (with N-body outers). I need bigger brakes for track days anyways, and this was cheaper than a big brake kit, with almost the same outcome... maybe. I guess I'll see on the first track day next year.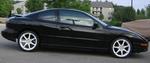 VTLoki,
Thanks for the reply. I have the Isuzu 5-speed as well - I want to finish this control arm swap on my 98 but the potential for a transmission leak like you are experiencing is troubling me a bit.
My 98 Cav is one of the rare 4-door sedans with the manual. (I totally lucked out finding it - I am tall and only the 4-doors fit me and I really wanted one of these for years)
My plan is to make it an "RS" trim model. That means the spoiler for the trunk and getting rid of the interior 3rd brake light. I need to find the car one of the plain flat (no hump) Package Tray Trims or "Parcel Shelf" as they are sometimes called for a 4-door model with spoiler. The 95-99 Sunfires being sportier and all vs. pretty much all Cavs (Z24s excepted) were much more likely to have the spoiler with the 4-door. I am trying to track down one of these 4-door flat ones from 95-99 w/o the child seat anchors that appeared in 2000 onwards. Do you know of any sources of 4-door Sunfires out there? There are still some 95-99 Sunfires at the Crazy Rays boneyards around Baltimore but they are all 2-Door models so the shelf would not fit. In other things I am planning, I was thinking about 3D printing an "RS" in the italicized "Cavalero" font (similar to the LS only in red) to match the Cavalier logo.
https://www.fonts.com/font/bitstream/cavalero-bt/roman
I know that RS emblems like this really never existed in the 3rd Gen cavs but I think it would be a nice subtle touch. I am also going to replace the standard front and rear bowties with the red ones from the Z24 and try to score a set of the 2003-2005 16" alloys with the standard finish (the chrome is a bit much for my preference). Finally (maybe) I might look for a set of Toyota Cav Taillights. I am possibly headed down under next year so maybe I will try to score a set while there. I plan to keep the car the stock Manta Green.
Please keep the updates coming, especially in regards to the leak.
Brian
Brian, unfortunately, I'm not aware of any down here, but I've never been to a junk yard around here. No time. However, when i've searched online, it looked like all the good ones were up near Baltimore or further north.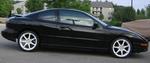 anybody have a set of arms theyd like to part with??

Stock j-body control arms? I do, and they even come with the pressed in polyurethane bushings. You interested?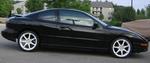 sorry, looking for aluminum grand am arms.

99LN2, I was looking at my axle, it had simply popped out, and just needed pushed in, It probably got pulled out from my severely bad alignment before I got it aligned. Just ask the alignment shop to make sure the axles are pushed in all the way, and (of course) you can do the same after swapping the control arms.
I'll try to get some more info about using the grand am tie rod ends on the sunfire (taper inside the j-body knuckle and if it accepts the grand am tie rod), but it's kind of irreverent for myself, as i've decided to fully switch to the NWF brakes. (so i'll have a grand am control arm, ball joint, tie rods). I'll probably start another thread on that as I get closer. Gathering the parts for that has taken longer than expected, as I wanted the best I could get for as cheap as I could. Can anyone say corvette Z06 brakes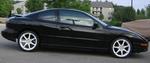 Thanks for the reply VTLoki - I had wondered about this. I need to still powdercoat my control arms and get my new bushings. I was thinking black but am also considering silver gray. I have a story to share in a few days but I need to take some pics to go with it first. As a preview, I think this site could use a new topic area called "Conquests" or something similar where J-Body owners (who still remain) can share our stories of junkyard scores. The closest topic I can find to a fit is the "Jacked/Wrecked/Sold" but I am talking victories and acquisitions however small they may be which is more of the opposite. That is the future I think as new and aftermarket parts will become ever more rare for our cars. Besides, junkyard stories are always full of unexpected surprises and what's not to love with that!

99LN2

I updated the sticky with a bunch of pictures, and parts list to help with the full NWF swap, if you're interested in that.