Well been about 7 years since I sold my 01 z24, we were broke, I had managed to budget build a 2500lb z24 that ran 14.90s on motor, we got pregnant and had a two door money pit cavalier, regular cab Duramax, 2 door accord and a z28. So I traded the z24 in and paid the remaining balance in cash for the cleanest 2 owner 04 blazer I have ever seen to this day. Fast forward to now. Z28 is still on stands being built, no longer broke as we own our own shop and do Normal automotive repair but also do LS swaps and performance builds and work. Been wanting another a cavalier for years, literally cried when I sold the 01. But I've been holding out for a clean car. By mistake. Yesterday I found this and here we go again. I wanted to find a keeper this time and I have. Surprisingly enough a friend has it in his impound lot for years and I had no clue. Hoping to have it at the shop this week. It's a 00-02 base with a LN2 and F23. If it wasn't for the body kit I probably wouldn't have batted a eye at a base cavalier because I wanted a z24. But I'm fixing his daughters equinox in trade for this, I offered cash and he came up with the trade. Car has been sitting because it needs a slave cylinder! Car has zero rust that I can see so far, rear frame rails are solid, rockers are solid and so are the quarters. Not sure exactly what I'ma do yet, may build and turbo the LN2, I'd love to swap to a LD9 as those are my jam but may even go ecotec for the massive aftermarket. No matter what it's going to be a turbo street car that won't see winter.
[video][/video]
Your text to link here...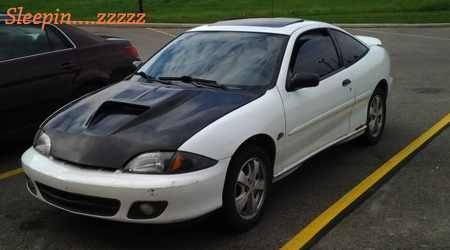 I Love My J ♡
Glad you found your forever car. Keep us posted on your build!

Did a very bad job of updating this, car is actually "done" been driving it for a few days been running for about 2 weeks. We ended up with three cars, this 01 base, a 01 z24 and a 96 z24, Davis browns old car actually. He made a an amazing deal on the car and I snagged it up! The 01z24 gave me it's transmission, a spare engine, and a b&m shifter and a/c stuff. The base 01 supplied me with the bad ass shell to build and that I did. Davis browns old car sacrificed it's life in the name of the base 01, while Davis car is actually quite a good shell to build it is just a dented up, clear coat peeling 96 and unfortunately for it I had a nice ass 60k mile mint 01 base shell already or I woulda just fixed up Davis car. So here's it all in a nut shell......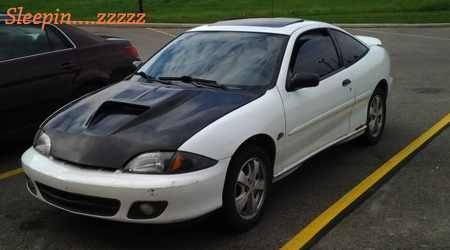 I Love My J ♡
01 base cavalier
Wings west body kit
Custom paint
Took it down to a shell
Striped and undercoated body
Neon SRT 4 rear disk
Drilled and slotted front stocks
Eibach rear sway bar
Aluminum LCA's
Poly bushings, LCA's and engine/transmission
Eibach front sway bar
Kyb gr2 struts (junk)
Eibach sportline springs -2.5 in from stock
Getrag F23 MHD LSD
96 jackshaft set up
B&M shifter
Stock pressure plate and spec disk (on the edge)
LD9 block
Line honed
ARP main studs
Eagle h beam
Wiesco forged pistons 9:1
ARP head studs
Ported head with +2 mm valves intake and exhaust
H.O. springs and lifters
W41 cams
Eaton m45 blower
MD OD crank pulley 7in
2.5 snout pulley
Makes 8psi
RK sport 4 2 1 header
3in custom exhaust, 2 magnaflow round case mufflers
LN2 coil conversion
Car is no slouch but is far from right. Good enough to rip it a little bit it needs more injector and pump which is coming soon. Putting a set of 60s in it and a 340lph aeromotive pump in it with an adjustable LT1 Camaro FPR. Once the tunes good on motor then I'll be installing the zex wet nitrous kit and working with it. Hoping car will run 12s on blower and we can get it in the 11s on spray
Currently running motegi trak lite 2.0 17x7 in bronze with 245/40/17 Firestone Firehawk Indy 500 tires
If I can figure out how to post pictures from my phone that'd be nice....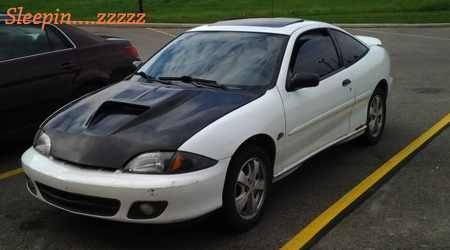 I Love My J ♡
https://photos.app.goo.gl/wRL1W82NXYiHGEtF8
Here's a link to the Google album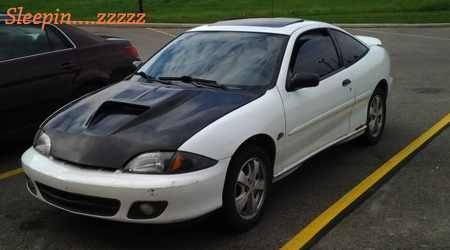 I Love My J ♡
dam, makes me sad I didn't look harder for a Nice Cavalier. I guess I'll take the compromise of the Z.

I'd be lying if I said I didn't look for a clean J-Body



I miss my Cavalier, even if it made 100 hp on a cold day and had more suspension then it deserved.

So I ended up buying a racetronix 750lph dual pump set up, it'll be here tomorrow. Trying to find 20 mm injector extensions so I can used my 60lb LS truck injectors but I can only find 16mm and 26mm 🤦 took it out last night and did two runs with the dragy. 14.53@97.53mph. so I got mph for 13.9s with it at high 14s afr about like 4000/4500rpm. Starts out close to 11.50 and starts getting lean and by 6500 I'm touching 15.1 afr. Spun bad and had a 2.40 60' time. But I've got the Firehawk Indy 500s at 50 Psi too and didn't do a burn out to warm them up so. Ready to get the fuel right and see what she's really made of. I'm on the gm reflash and have modified some rpm and limited stuff and the ve tables that's it. Haven't touched timing or anything. Once we get slicks and the nitrous on it we will be really cooking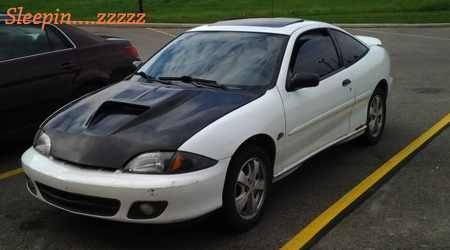 I Love My J ♡