Well been about 7 years since I sold my 01 z24, we were broke, I had managed to budget build a 2500lb z24 that ran 14.90s on motor, we got pregnant and had a two door money pit cavalier, regular cab Duramax, 2 door accord and a z28. So I traded the z24 in and paid the remaining balance in cash for the cleanest 2 owner 04 blazer I have ever seen to this day. Fast forward to now. Z28 is still on stands being built, no longer broke as we own our own shop and do Normal automotive repair but also do LS swaps and performance builds and work. Been wanting another a cavalier for years, literally cried when I sold the 01. But I've been holding out for a clean car. By mistake. Yesterday I found this and here we go again. I wanted to find a keeper this time and I have. Surprisingly enough a friend has it in his impound lot for years and I had no clue. Hoping to have it at the shop this week. It's a 00-02 base with a LN2 and F23. If it wasn't for the body kit I probably wouldn't have batted a eye at a base cavalier because I wanted a z24. But I'm fixing his daughters equinox in trade for this, I offered cash and he came up with the trade. Car has been sitting because it needs a slave cylinder! Car has zero rust that I can see so far, rear frame rails are solid, rockers are solid and so are the quarters. Not sure exactly what I'ma do yet, may build and turbo the LN2, I'd love to swap to a LD9 as those are my jam but may even go ecotec for the massive aftermarket. No matter what it's going to be a turbo street car that won't see winter.
[video][/video]
Your text to link here...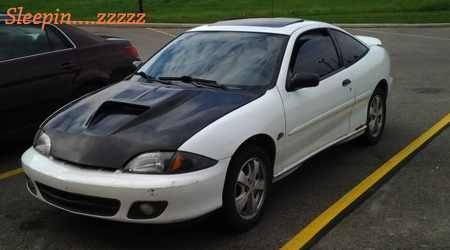 I Love My J ♡
Glad you found your forever car. Keep us posted on your build!