just wanted to see what dyno numbers people were getting with their nitrous hooked up? please say what size shot & mods or stock.
thanks

what type of numbers are people getting with a 50shot for example?

look, let's say my stock auto eco is putting down 120hp to teh wheels (which of course it's not but a guy can dream) with a 50 shot hooked up i'm gonna make real close to 170hp. that's it it's really that easy. regardless of what your starting hp number is when you add on a certain size shot your'e adding that much hp, give or take a few obviously it's not going to be dead nuts.
It depends on the manufacture of the kit a 50 shot on one brand might be 60 on another. Some go by what amount reaches the wheels others the crank when rating the kits. But basically it's close to what it's rated at.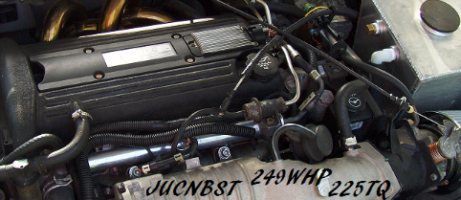 2.4l ld9

140 shot
Port polish
1mm oversized ss vales
2.3 springs/retainers
"secret cams"
Weisco 11.5:1
Eagle H beams
Clevite rod/mains
Spec lightweight flywheel
Spec stage 3 street/strip clutch
Ln2 msd coil swap
NGK 2 steps colder
Hptuners
273whp 258torque

It eats the plastic manifolds.