I picked up some non-labelled 6.5" woofers. The magnets are so big that I cant fit it into the stock hole, to make the door fit I had to use a ring of 1" mdf and mount it on the plastic panel itself. It's about 4"diameter x 3" I would have to guess.
So, these speakers arent exactly in an adequate box to determine, but they dont sound that amazing. My 5.25" woofer sounds a bit more natural.
But generally, does a bigger magnet mean a better speaker? Before I go thru the hassle of making an elaborate box for it, I want to know if it'll be worth it.
PS.
What volume of enclosure would you recommend for a 6.5" woofer?

bigger magnet does not always mean better. there is a lot of technicalities that tie into this and it will make your head hurt. hell i cant even explain em lol

im not sure, but the magnet is what moves the speaker and produces the sound, so i would imagine that a bigger magnet would equal louder sound / more power, so i guess the sound quality could be better but not necessarly. some metals produce a better magnetic field, so a powerful small magnet, could be just as good as a bigger, weaker magnet.
http://irockit.deviantart.com/
Not very good pictures because I had to hold my camera a certain way so it would stay on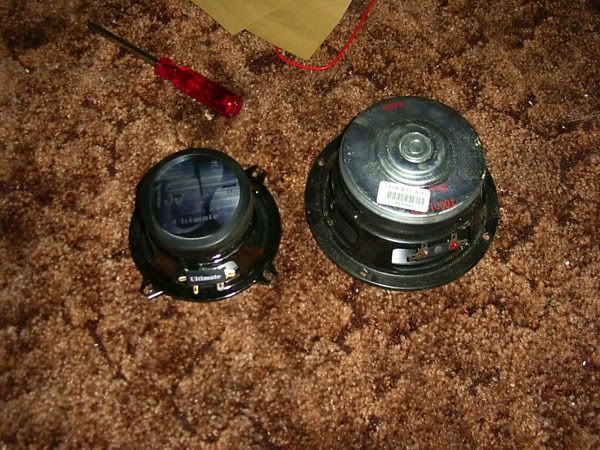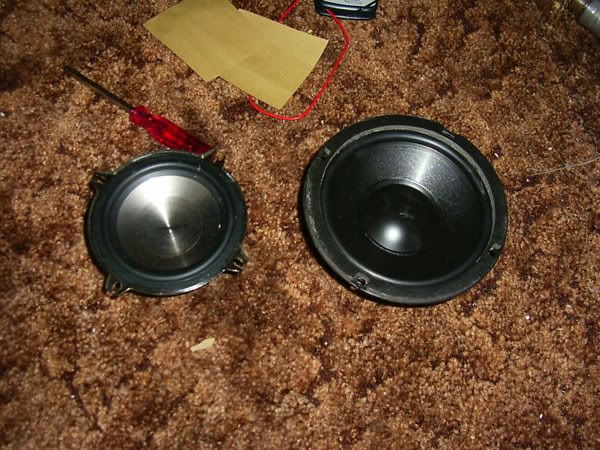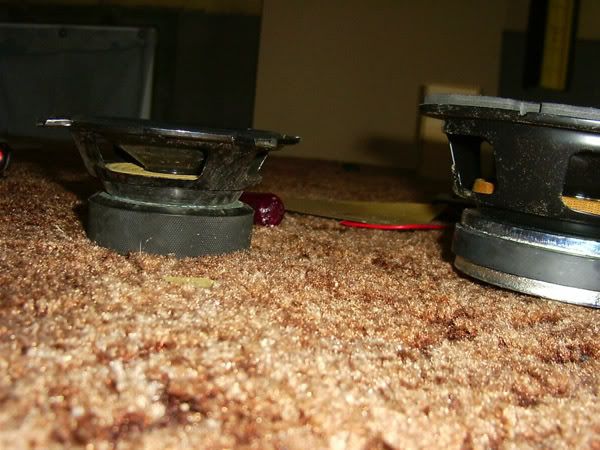 5.25" on the left, 6.5" on the right
Still need to know what size of box I should use.

I think the reason they didn't sound good is because I moved the tweeter up and back, totally ruined the imaging. It's down in the bottom corner of the door now so it sounds better. I still need to make a box but I'm not going to be able to until I fiberglass the doors, I just don't have room. I guess I'll have to deal with a slightly lacking midbass until I can get my act together.

used to be the cheap manufacturers would have these tiny magnets on the speakers compared to a quality speaker and that would somewhat be the lingo that "look at that tiny magnet, that thing must suck" so the cheap manufactures started throwing on bigger and bigger magnets and advertising the size of the magnet to signify that they were quality when they were really just crappy speakers with big magnets. now adays manufacturers make things look good to make u think they are quality gear. but they can't fool the ears.
as for the size, it really depends on the specs of the speaker itself. to small an enclosure and you will get no midbass out of them.
http://www.flickr.com/photos/sndsgood/
https://www.facebook.com/#!/Square1Photography
If you take a speaker and put on a stronger magnet it will have more force to drive the cone. But just because a magnet is bigger doesn't necessarily mean it's stronger.

So I just found out they came out of a powered unit, cabinet speakers. Hopefully that means the magnets weren't just for show. I've tried a few boxes and .25cubes sounds best, it's hard to tell without actually having them installed the way they are going to be.
Hopefully I can fiberglass the panels right away, I built a vapor-sealed box because I have to do it in my garage which is connected to my house. If the vapours are bad I'll have to delay the install

and after I cut holes in the panels too

It's so frustrating building blindly


the qaulity of the magnet also matters quite a bit as well, not just the weight/size !
My Cav
I give up...
i'm buying a VW those people love trees, so they should love eachother too... "Andy"