For a 95-99 center console I need a confirmation: the front top portion with the cup holder and tray does in fact separate from the lower portion correct? (Note I am not talking about the shifter top or the the part where the power window switch goes). I mean the front part forward of the shifter that extends under the dash. About 2 years ago when I got my 98 I completely removed the console for a deep cleaning and I am certain that I had it off and separate.

I have a friend in NZ who is helping me to obtain some of the coveted Toyota Cav parts including the tail lights with the rear wiring harness so it should all just work. I am also interested in the fancy Toyota Cav console front top with the coin sorter and the power port. The person parting out the car says that it does not separate. I think that it will but I cannot remember how it is attached. I think though that I had to take the whole console out to get at it. Dos anyone know for sure what the setup is? The pics in the shop manual are useless.

Thanks,

99LN2

Yea the console does seperate. I had a 99 single cup console that would not fit in a 04 dual cup console location. They are designed diff. Not sure if the year makes the diff but id assume it just has to do with it being wider and the one has the ebrake on the outside while the other one sits inside. The bottom halfs do not interchange. These were both manual cars


ReD RaiN

I am keeping the year range (95-99) the same. I am interested in the cap that you see in the attached pic of a Toyota Cav in the same year range. The arrows are pointing to the part that the NZ seller claims is the same piece as the lower main console body. I believe that the seller is mistaken and needs to look a little bit harder.
I cannot remember if the top is held on by screws from underneath or just plastic clips that pop it in place. Can this cap be removed without having to remove the entire console?
thanks,
99LN2
Attachments

ConsoleCapPic.jpg (219k)

ReD RaiN, your comment on the parking brake got me thinking a bit further. Since these consoles are mirror images of each other and there is some asymmetry to the front portion, this cap will not fit even though the year range is correct. I went back out to really look at that front cap and while the asymmetry is mild, it is definitely there so no fit is possible.

That cap would have been cool to have but it will not fit. I guess that explains why I had not found any others on this site.

Was a cap configured like this ever available as a US option? I have never seen any.

thanks,

99LN2

ive never seen one like that but i do like it. Im not sure how much is the same between consoles but i believe the bottom half uses screws to hold it together and if im not mistaken, i dont think u can take apart just the cap ur referring to. And no, ud have to remove it completely to dissasemble


ReD RaiN

I agree ReD RaiN and think that the coin sorter and cigarette lighter are all molded in as part of that top half and cannot be removed. I think this is console type is great too and the lower cigarette lighter location makes is seem more like a "power port" like what you see now in more modern cars. I would love to have this to go along with my soon to arrive Toyota Cavalier taillights but the asymmetry completely wrecks that otherwise good idea. That's why I was wondering if a US version of it was ever produced as a factory option.
Still, it will just be great finally getting the Toyota style taillights and I am also getting the complete rear harness to go with them so maybe I can just plug and play and not have to do the wire snip mod under the steering collar. My improvised 98 "Cavalier RS Sedan" is beginning to take shape. I still need to score one of those J-body.org stickers for the final touch.
If I cannot obtain one I was thinking of making my own alternate design using the Cavalero font. I always liked that font used for the "Cavalier" badges on the 95-99 models.
Here is what it looks like:
http://www.fontsplace.com/cavalero-bt-roman-free-font-download.html
BTW - I would NOT recommend trying to download it from this particular site as it definitely looks pretty fishy but you can find this font in other places if you look around.
If you apply italics to this font it totally matches the "Cavalier" badge on the 95-99 models. I am using it as the basis to 3D print my "RS" emblem for the trunk lid in a black base with red letters.
99LN2
depending on your goal maybe a newer model with the additional power port can work. I used to upgrade my 98 z vert and will be doing it to my 00z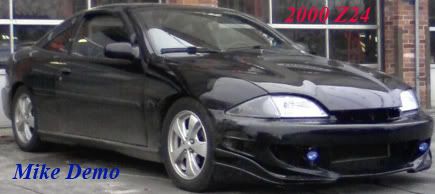 As mentioned above im not sure if theres a diff between years but i kno for a fact that the single and dual cup holders from a 99 and 04 has diff bases and the tops will not interchange


ReD RaiN