I have an AEM CAI, I removed the stock dual exhaust, Ran it straight back out the left side and added an Injen muffler.
I also just ordered new KYB Struts and Megan Lowering Springs with a 2 inch drop.
Tsudo 4-2-1 Headers are also on the way.
Let me know what you think.
Looks like a good start!
Love blacked out JBody's, 03+ Sunfire even more!
nice sunfire, i like how it looks currently and your plans with the suspension and headers. Check your pm i sent you a message.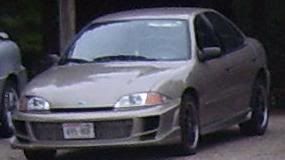 WI Vehicle A/C Certified Tech
Looks nice! The only thing I don't like is the stickers on the quarter windows. I can't wait to see it lowered!
Hey guys thanks for all the feedback. I will keep you posted when I lower it at the end of the month. I've decided to go with the Tokico HP Blues, I found a kit for $600. So the headers will have to wait.

The first one is so gorgeous!!

nice car man, love the blacked out tails on a black car! especially on a sunfire lol
you will be happy with the hp blues, i just installed a set on my 04 and was very pleased with the ride.