Hey guys, haven't posted here in a long time, but figured I should stop by and post up.
So Baby is gone. I knew she was on her way out, but it was still sad. It was a beautiful Summer day, with the Car parked under a tree. So beautiful, I decided to open the sun roof. Unfortunately, i did not notice the GIANT SPIDER ( talking almost the Size of the palm of your hand) chilling on the Sunroof Glass Until after I looked up and got a Falling Spider in the eye. As an arachnaphobe, I did not react well. Apparently, I End up kicking and screaming like a little girl when I get a spider in my eye. Long Story Short, I put her under the back end of a Toyota Tacoma and caught his Leaf Spring at about 15 mph:
AUGH!!!
After having her towed home and doing a good once over on her, I checked out the damage: I had cracked the Windshield and front bumper; destroyed the hood, latch and left fender; bent and broken the Radiator; bent the Transmission cooler lines; Bent the Rad Support; broken the Rad Fan; cracked the battery and bent the entire battery tray and tub section below it; and bent the Upper coolant Pipe.
(pics taken after removing performance parts)
I came to a sad realization: with the value of the car being what it is on these cars and only having liability, It seemed i would be spending much more than the cost of the car to get it back to inspection standards, especially since the reverse gear on the transmission had gone out about a month earlier, and the inspection was due in two weeks.
So she was sold for a pittance on Craigslist.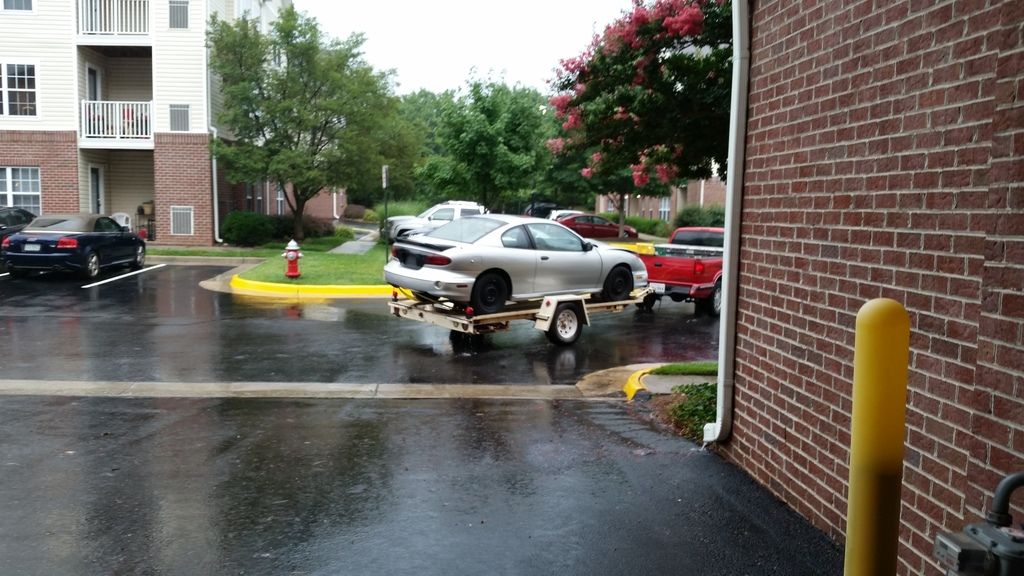 It was the end of an era; a terribly sad day; I was deeply saddened, and stuck with nothing but my motorcycle for daily driving.
....For about a month, until i found the Car was looking for:
That's my 2007 Hyundai Tiburon SE in Vivid Blue Metallic. 2.7 liter V6 mated to a Six-speed manual tranny, Red leather interior, Dash mounted Gauge pod, Electric sunroof, windows, locks, Kenwood Sound System... thing is flippin sweet

I'll eventually take the time to put something here. I swear.
Sad to see a car go, but the new one is a nice ride!