Just realized I never posted about my bike purchase last august, I bought a 1986 Yamaha Radian with only 10,400 miles from my cousin for $500 barely running.
As I bought it: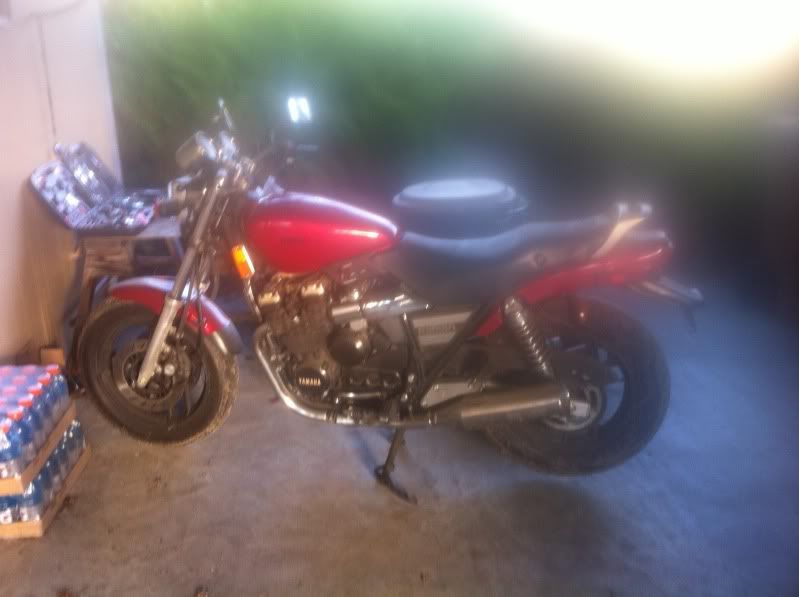 First order of business was to rebuild the carbs, actually had to take the carbs to a local shop to get sonic cleaned because they were so gummed up. The original air box was long gone, it had off road foam filters that quickly went in the trash in favor for K&N filters and a DynoJet kit to match the increased airflow. This year I did new front and rear break pads, front tire and a new gas tank, the original had bubbling paint and had been repaired a few times in its life so I snagged a new one off ebay for $38, only thing was its a different color.
As it sits now with 12,6xx miles:
I will be painting the tank with Duplicolor truck bed liner and I want to know people's thoughts on painting the fenders (red parts) the same way, with flat black or should I leave them as is because the paint is in good shape. Also thinking of painting the fake plastic chrome around the instruments and headlight in flat black. Thoughts and comments welcome.
PSN ID: Phatchance249
I like it, I've got a few older bikes for nothing just to make them run with so basic fixes. The only way I'd buy a bike at this time.

The bike has soo much black already. I think a different color would be nice. Maybe silver since that might give a cleaner less in your face red look and it already has silver accents.



I miss my Cavalier, even if it made 100 hp on a cold day and had more suspension then it deserved.