DO ANY OF YOU KNOW IF YOU CAN SWAP OUT THE ORIGINAL CRAPPY DEAWOO ENGINE AND DROP A 161 IN THE CAR .My wifes car is a 2005 aveo hatch and the stupid plastic timing belt tensioner broke apart and destroyed her engine in 2012 .She had the head redone replaced tensioner .belt and waterpump,but a couple weeks ago the engine started overheating and now she just wants to get rid of the before anothr disaster strikes. I was thinking about doing an ecotec swap but my mechanic said it aint doable.Just wanted your oponions on this .Thanx!


BLACKMANTIS

BLACK MANTIS wrote:

my mechanic said it aint doable.Just wanted your oponions on this .Thanx!
IMO, your mechanic doesn't really know a lot. I have a big problem with a lot of mechanics these days because they know all the things to pass the ASE test, but can't seem to really problem solve unless there's a manual to go by, and think that anything outside the box is impossible.
FYI, I had at least a dozen "well qualified" mechanics tell me that it wasn't possible to put a 3400 in my Cavalier. As most people know, this is now a common swap. There are a few small issues to solve with it, but it works. I suspect the same for your swap, but since no one has done it yet, you'll need to do a little research. What I will say is that the communications are finally becoming more standard across the different GM platforms, but there are some security blocks that need to be dealt with. My recommendation would be to look at something from a late Cobalt or a Cruize as a donor vehicle. The Eco from the J-body isn't going to have any of the same communications protocols that the 2012 Aveo does.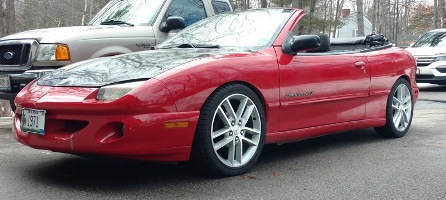 The crank trigger wheel on the J-body will not be correct the a AVEO either. Best best would find a sonic or cruise engine.





PRND321 Till I DIE
Old Motor: 160whp & 152ft/lbs, 1/4 Mile 15.4 @88.2
M45 + LD9 + 4T40-E, GO GO GO

The car is sold and I say good riddance! Anyway, just FYI Mr. Quick ,it was a 2005 Aveo hatchback with 118085km on it and the guy who bought it from me took it to a GM dealer freind of his and it was diagnosed with a blown head gasket which is why it was overheating. It will cost him $600 to have the gasket replaced at the GMdealer ,I told him him to get the hell out if there ASAP and find a local garage mechanic to do it for under $400! Anyway thanx for the info guys!


BLACKMANTIS