Welcome to my Headlight conversion thread
This is more my adventures and questions regarding re-wiring my Cavalier's Headlights and install a set I found nearby.
I have IPCW Halo Projector style headlights. I'm in the process of installing them but had a few questions I'm curious of
First of all, The low beams and High beams are easy, They just go right in, even the Turn signals are no problem for me.
Anyone else who has done this conversion, the side LED's and the halo's, do you prefer to attach these to your parking lights circuits or do you prefer to attach them to your Daytime Running lights circuits?
Also if I use the Parking Lights circuit, do you think disabling the daytime running lights would look better as well?
Attachments

20150302_2303121.jpg (1524k)

"I like to burn money in piles too" -Brian
If you have the schematic and know what you're doing, I would make the halos and LEDs your DRL. However, there will be a bit of cutting into the harness at the underhood fuse/relay box, and if you don't do it right, you could cause yourself some headaches.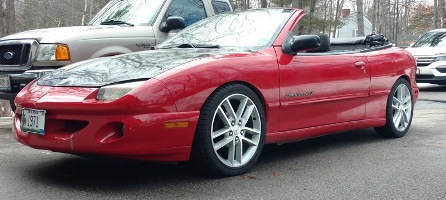 I was running my Halos as DRL's for a while and I liked it. To do it you'll need to pick up a a pair of load resistors to connect in parallel to the halos, and it is easiest to get running by adding an extra relay tripping the DRL's.
I wired mine into the parking lights so that I could turn them on or off when I wanted. Just splice the wires for the side LEDs and halos into the marker light that goes into the side of the headlight housing.