Sunfire Heats Up Sporty, Small Car Segment for 2000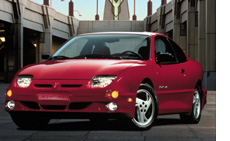 NEW YORK – The Pontiac Sunfire's reputation as a hot set of wheels with a cool price gets even hotter for 2000. New interior, exterior, and powertrain changes make it even more attractive to today's consumers looking for a sporty car at an affordable price.
"Not only does Sunfire incorporate new exterior enhancements that build on its sporty,
fun-to-drive image," said Sunfire Brand Manager Craig Bierley, "it has several new comfort and convenience features that are normally found on vehicles costing thousands more.
"Add to that the spirited performance of the 2.4-liter Twin Cam engine on the GT, the all-new Getrag five-speed manual transmission and the high-performance sound of Monsoon audio systems on our new family of radios, and you get an unbeatable sporty, affordable combination for the budget-minded driver."
Sporty New Front Appearance
Sunfire's new front fascias enhance its sporty, well-thought out design. Integral foglamps on the GT coupe and convertible provide additional lighting and give them a more aggressive, sporty appearance. On the SE coupe and sedan, rounded turn signals are integrated into the outboard position of the front fascia.
Sleeker Profile
Side ribs and new rocker panel moldings on the SE coupe and sedan give Sunfire more contour and add to its sporty, aggressive attitude.
New Rear Design Cues
A new rear fascia with rounded backup lamps adds to the Sunfire's sporty brand image.
New Colors
Two new exterior colors, Spruce Green Metallic and Ultra Silver Metallic, add to Sunfire's wide range of bold, attractive body colors. In addition, color-keyed bodyside moldings resist door dings and other minor impacts.
Revised Instrument Panel
Sunfire's updated instrument panel cluster revises the layout for a more attractive appearance. The instrumentation includes an analog speedometer, digital LCD odometer and trip odometer, tachometer, coolant temperature gauge and fuel gauge.
Driver-Focused, Comfortable Console
Sunfire's new front floor console with integral armrest provides greater functionality. Key improvements include: two new forward-mounted cupholders, a concealed coin holder, and improved storage space for tapes, CDs and other items. A convenient concave padded armrest helps add to the driver's comfort during long trips.
New Interior Surfaces
A leather-wrapped shift knob, parking brake handle and steering wheel are standard on the GT coupe and convertible. A new lighted PRNDL indicator on the console provides better readability at night.
New "Fanfare" cloth on Sunfire SE's seats and door trim provide a more vibrant appearance and enhanced comfort.
New Getrag 5-Speed Transmission
Built by the well-known German transmission manufacturer, Getrag, this transmission features improved shift feel, as well as a synchronized reverse gear for easier engagement. Shifting is aided by an improved cable shift linkage which also combines a reverse lockout feature for added safety. The new Getrag five-speed manual transmission is standard on the coupe and sedan and optional on the GT convertible.
Powertrains
Sunfire GT coupe and convertible come standard with the 150-horsepower, 2.4-liter
Twin Cam engine.
Powertrain selections for the 2000 Sunfire SE include the standard 115-horsepower,
2.2-liter engine and five-speed manual transmission. This combination yields an EPA fuel economy rating of 24 city/34 highway. The 2.2-liter engine is also available with a three- or four-speed automatic transmission.
New Four-Wheel ABS System
New brake components optimize wheel slip control, reduce noise levels, improve pedal feel and contribute to reduced weight.
New Wheels
New 16-inch aluminum wheels with P205/55R16 tires are standard on the GT coupe giving it increased handling and road-holding ability. Standard on SE are 14-inch steel wheels with new bolt-on wheel covers for a sporty look that appeals to the budget-minded driver. New 15-inch aluminum wheels are also available on the SE coupe and sedan and standard on the GT convertible.
Safety and Security
Sunfire is equipped with Next Generation driver and front passenger air bags to help protect front seat occupants.
New PassLock II theft-deterrent system helps protect Sunfire from being stolen by immobilizing the vehicle. Content theft protection, included with remote keyless entry and power door lock security package, flashes daytime running lights and dome lamp
and sounds the horn during an unauthorized attempt to open the doors.
Battery rundown protection reduces the chance of being stranded due to a dead battery.
New Standard and Premium Family of Radios
For 2000, Sunfire offers a new line of automotive radios and premium sound systems. Standard AM/FM radio includes the following features:
Ebony faceplate with dark gray buttons and warm red displays
Retained accessory feature allows radio to remain powered for 10 minutes
after power is switched off or until driver door is opened
Radio theft-deterrent system activates automatically
Tuner has one AM and two FM bands with six presets per band
Tuner features Seek, Scan and Preset Scan
In addition, Sunfire's uplevel radios include:
Radio Broadcast Data System (RDS) – includes program type seek/scan, program service name, text information, traffic interrupts, alternate frequency switching and clock update
Programmable equalization with five programmable, storable equalizer settings
Key fob personalized memory presets for two individual drivers; also, equalization settings stored
Monsoon® Audio System
A Monsoon® premium audio system has been added to Sunfire's list of available options for those who want a high-performance, 200-watt audio system capable of completely drenching them in sound.
The Monsoon® system has been tailored specifically to Sunfire's acoustical environment. With eight speakers optimally placed to maximize sound performance, Monsoon® delivers music with as much excitement as Pontiac builds into the rest of the car. The eight-channel amplified system with active crossovers directs low, midrange and high frequencies to the appropriate speakers.
Up front, two 0.6-inch 4-ohm tweeters, one in each door, are augmented by two low-impedance high-sensitivity speakers, each enclosed in separate housings for excellent sound reproduction.
At the rear, left and right dual-input 6"x9" coaxial speakers precisely reproduce the audio signals coming from the amplifier. Each coax speaker includes a 4-ohm tweeter backed by a 2-ohm subwoofer, yielding powerful highs and deep, strong bass.
"Sunfire is a hot, sporty vehicle for budget-conscious drivers. We've turned up the heat and added more sporty styling, exciting performance and fun," said Bierley.