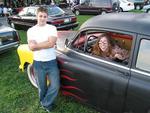 Jarrett Beier
jbeier
Location:
Bethlehem (Allentown area) PA
Joined:
Wednesday, March 12, 2003
Last Update:
Friday, June 8, 2018
Last Seen:
Thursday, May 23, 2019
Email:
jarrett_beier@excite.com
1952 Chevrolet Styleline

About This Vehicle:


This is my 1952 Chevy Styleline 2 door sedan. Flames were painted over with more satin black

Body Style: Sedan
Color: Black
Engine: 472 Cadillac
Transmission: Automatic
Interior: red
Purchase Date: 9/13/01
Purchased From: a friend
Build Date: still going



MODIFICATIONS

Engine:

Straight 6 puked - Moved on to Caddy 472 big block and turbo 400 trans with a 8.5 inch GM rear end. Makes 345 HP in stock trim with only 8.5 to 1 compression
and 510 lbs/ft of tire melting torque!

Suspension/Wheels/Brakes:

lowered 4"
15" original steelies with the rear wheels reversed and 60's vintage wide whitewalls.

Interior:

Back seat from my old '90 Z with functional 60/40 folding sections
front split-bench seat from my bro's '79 Pontiac LeMans (I installed the Z's buckets in the Lemans)

Exterior:Audio:

No stereo... ...just the sweet sounds of V8 powa!

Future:

Summit Racing bucket seats
possibly dropped spindles and air ride.