i just bought a 2000 Z24 convertible, and the weather stripping around the windsheild (where it meets the convertible top itself) looks pretty rough, and i want to replace it. does anyone know of a place online that specializes in weather stripping? i tried ebay, no luck. local junkyards don't seem to have any cavalier convertibles either. and i refuse to outrageous dealer prices (weatherstripping is usually in the $100's of dollars!!).

any help would be appreciated.

When I did have my convertible, my dealer actually recommended going to a local shop that specialized in weather stripping for a much better price.
Look around your area for such a place. I wish I could be of more help but I unfortunately sold my convertible before I replaced the stripping.
good luck man, i found one on ebay a while back and i don't remember how much it went for, but it was expensive! and dealers will charge you up the ass for one, so good luck! hell, i could use one too. let me know if you have any luck!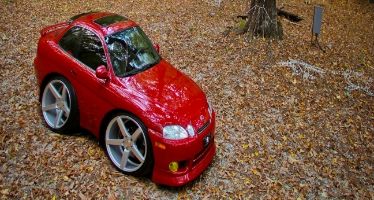 Flickr Photostream
Facebook
Twitter
ive never found any where other than the dealer that sells them. i suppose a specialty shop might have access or be able to do one up for you, but i cant imagine they would be cheaper than the dealer. sorry, thats the curse of we vert guys. top replacement parts are $$$$$$
Unfortunately, there is no cheap shortcut here - the particular replacement stripping section you are looking for is only is available as an OEM item, GM part #12335401. Lowest price would be from GM Parts Direct and (if my memory is correct) currently runs around $240 shipped. If you install it yourself (as I did, not that complicated but takes a few hours to do correctly) you'll probably save at least $200-250, which is easily what a shop or dealer in my area would charge for the work.

If you do get the part and want a walk though of removing the old strip and putting in the new one, email me (boy, I wished I'd had that in hand when I did this back last May). There are a number of small but important steps/tips that aren't really covered in the section of the GM convertible service manual that deals with this particular replacement.

try the places the dealers get thier parts through here in central ny we have a place called colours ( the are basically an auto body wholesale place tey deal with all aftermarket parts for the dealers as well i have gotten fenders bumpers and they even dsell doors and hoods i havent yet checked into the weather stripping but im pritty shure they can get thier hands on it let me check for shure.
chances are they cant get seals for verts (our cars anyway). usually the aftermarket companies have contracts with the manufacturers to not sell to anyone else until the contract is up. thats just for the seals it seems though
I am hoping to turn my Cavalier convertible into a new Camaro vert, avoiding the weatherstripping thing. Mine does not look that bad though, and the car has rarely been in the rain since I bought it in 2000.

so have you swapped an HO into that thing yet? youve got a special one there.....95 2.3. according to lenko, less than 1000 95 verts were made and he has no idea how many had the quad in it. yeah, thats just random lol
Nope , no HO here. I did have a Berreta GTZ though. My car has enough power for me. I don't want to put an engine older than my car in my car. Like I said I am hoping to buy a new Camaro vert, but with the Cadillac V6 not a V8. So my Cavalier will be around another year or two. I did my final mod a few months ago , gas hood springs. I will be selling our 98 Bonneville first to make our fleet smaller.

I've been putting off this purchase for a while due to the price. Just found Soffseal 8701 (header) and Soffseal 8702 (6 piece set) weather seals on www.carparts.com for $260 total shipped! I used the 5% off coupon code "CPAFF8." Can't wait to install!