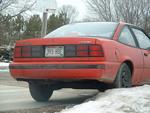 Brett Brecklin
brettb
Location:
North East WI
Joined:
Thursday, October 7, 2004
Last Update:
Thursday, May 12, 2005
Email:
my_dog_is_eating_me@yahoo.com
Web Page:
http://www.wisconsinnitro.com
1990 Chevrolet Cavalier

About This Vehicle:


Bought the car for a beater. Was only $600 and had a bunch of new stuff installed. It's a fun little car to bomb around in. It loves the mud and water, and I love to put it through hell and back. I'm waiting for it to die so I can buy a nicer car. All in all, it was worth the money and still runs awesome almost a year after I bought it! Now looks on the other hand..

Body Style: Coupe
Color: Red
Engine: 2.2L I4 OHV
Transmission: Manual
Interior: Grey Cloth
Purchase Date: Sometime last fall?
Purchased From: Some girl..
Build Date: It's not being built



MODIFICATIONS

Engine:

Replace teh aircleaner when I have spare change. Do an oil change here and there.

Suspension/Wheels/Brakes:

$40 chrome Dubcrapz from Fleet Farm

Interior:

Dark Funeral post covering headliner. Headliner being held up by pins. Painted dash panel red to match exterior
looks ghey. Chevrolet seat covers to hide tearing seats. Numerous burns in seats. Dirty Carpet.

Exterior:

Rust. Paint peeling. Bubbling paint. Clearcoat rubbing off. Many dents. Mud. Occasional rubber dust from happy driving.

Audio:

Sony Xplode deck (pos
came withth the car) Cheapo 6x9's Had some 12" woofers in the trunk until said rust overtook the trunk and deemed conditions for said subwoofers unsafe. Housewiring!

Miscellaneous:

Fear This Beater sticker. 5 Star Racing stock car bodies sticker. Leaky fuel lines..

Future:

It will reside in the junkyard when she dies. Hopefully it goes out with a bang
I like bangs..