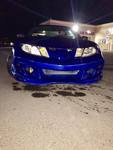 Dudeage
dudeage
Location:
Idaho (ID)
Joined:
Friday, September 23, 2016
Last Update:
Thursday, April 12, 2018
Last Seen:
Thursday, December 24, 2020
Email:
unlisted
2003 Pontiac Sunfire

About This Vehicle:


This is my latest project car. So far, some repairs have been completed, engine bolt-ons, and Race Inspired Cosmetic Enhancements. I figured I'd switch gears a little, and instead of ripping off the God-awful body kit and crap, I'm just going to take it all the way to the max while retaining form and function. Challenge anyone? UPDATE: @!#$ the body kit. It's coming off.

Body Style: Coupe
Color: Blue
Engine: 2.2 Ecotec
Transmission: Automatic
Interior: Standard
Purchase Date: 09/24/2016
Purchased From: Some dude in WA
Build Date: 09/24/2016


Manufacturer Options



MODIFICATIONS

Engine:

Cold Air Intake
Pacesetter Header
2.5" Headerback Exhaust
Magnaflow Hi-Flow Catalytic convertor 2.5"
12" Vibrant Resonator
Magnaflow 11226 Muffler
M62 coming soon.

Suspension/Wheels/Brakes:

Okana Wheels
Blue Aluminum Lug Nuts
Saturn / Neon Rear Disc Brake Conversion
Tein Super Street Coilovers
Polyurethane Bushings Soon

Interior:

Steering Wheel
DVD Player
Gauges Coming Soon

Exterior:

Duraflex BMX Fiberglass front bumper and side skirts (Coming off soon)
OE rear bumper (rear lip coming soon)
M3 LED Mirrors
Ebay Top Diffusors (blew off already)
Ebay Wing (Tiburon wing with CHMSL coming soon)
Altessa Taillamps
Blue Headlights
Blue High Beams
HID's next

Audio:Future:

In This Order:
Polyurethane Bushings
Plastic Fenders
Carbon Fiber Hood
Methanol Injection
Cavalier Quarter Window Conversion
Front Lip and Side Skirt Lips on OE Body
Front and Rear Stabilizer Bars and Links
Big Brakes All Around
IRS
Aluminum Control Arms
Reduce Weight to Under 2000 lbs
Build to 350 Horsepower
Full Transmission Rebuild
Redo Interior with Race Inspired Stuff.