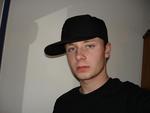 Brandon Hodge
pimpn96cav
Location:
Brazil, Indiana
Joined:
Thursday, March 24, 2005
Last Update:
Tuesday, February 28, 2006
Email:
pimpn96cav@aol.com
1996 Chevrolet Cavalier Z24

Body Style: Coupe
Color: White
Engine: 2.4L DOHC "Twin Cam"
Transmission: Automatic
Interior: Blue and White
Purchase Date: 2004



MODIFICATIONS

Engine:

OBX Header
9:1 Compression
Removed balance shafts
Cold air intake with filter.(Engine cover is painted blue) / Transmission is an automatic but there it has many internal upgrades
along with a shift module to adjust the firmness of the shifts.

Suspension/Wheels/Brakes:

Chassis Tech Air ride suspension(strut bags in the front and cylinders in the back).. 18 inch nakyama zoro 10s custom powdercoated candy blue rapped in 215/35/18 rubbers.

Interior:

Full Custom interior(white and blue) dash
seats
steering wheel
and much more....

Exterior:

Full Bomex Body kit
Lambo Doors
fiberglass hood
trunk
and adjustable touring wing
projector headlights
clear turn signals
clear corners
euro tails
20%window tint
buddy club 2 side scoops
chromed gas door with street rod filler
side mirrors painted to match

Audio:

4 12 inch D3 diamond audio subwoofers
with a 1000/1 jl audio amplifier
In a custom fiberglass enclosure in the trunk painted blue
along with white vinyl that matches the interior

Miscellaneous:

16.7 million color underglow kit
10 led tubes
chrome antenna
I.N.Y.C custom front license plate
along with a 1BadCavy (Indiana licence plate)

Future:

In dash motorized flip up t.v.
along with tv's in the visors
and maybe some more performace parts...