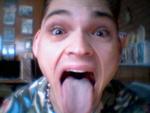 Scott Forest, Jr.
ragefear
Location:
Newington, CT
Joined:
Tuesday, May 14, 2002
Last Update:
Friday, April 6, 2012
Last Seen:
Wednesday, August 19, 2020
Email:
fearmydatsun@gmail.com
1991 Chevrolet 1500

About This Vehicle:


Its pure stock with just about 200K miles on it. Daily gas guzzling beater, two wheel drive.

Body Style: Truck
Color: Blue and White
Engine: 350
Transmission: Automatic
Interior: Stock, blue


Manufacturer Options


two wheel drive
tape deck (broke) with equalizer
Silverado (what that means who knows)
power windows
power door locks


MODIFICATIONS

Engine:

K&N drop in filter
Flowmaster 3inch 40 series

Suspension/Wheels/Brakes:

American Racing Outlaw 2
BF Goodrich tires

Interior:Exterior:Audio:

stock head unit with broken tape deck and equalizer
infinity reference 4x6 fronts
stock rears

Miscellaneous:Future:

fix rust
pray it won't die (come pray with me!)!