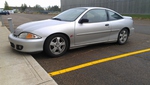 Rick V
rick021808
Location:
Edmonton Alberta
Joined:
Friday, March 11, 2011
Last Update:
Tuesday, November 11, 2014
Last Seen:
Sunday, March 12, 2017
Email:
unlisted
1991 GMC Sierra 4x4

About This Vehicle:


Bought this truck when I was 16 and when I was about 18, started dumping lots of money into it. Have a family now and very limited time and money so it has actually been parked for few years now. Over the years I have put over $20000 into this truck , finally sold it after lowering priced to $3000.

Body Style: Truck
Color: Blue/White (SOLD)
Engine: 350TBI
Transmission: Automatic
Interior: Blue
Purchase Date: 2003


Manufacturer Options



MODIFICATIONS

Engine:

Rebuilt 350TBI
Lots of bolt ons
Headers
MSD ignition
etc... TH400 3spd trans 14 bolt 9.5" rear diff

Suspension/Wheels/Brakes:

6" pro comp lift
factory torsen bars cranked up another 2" in front
plus 3" body lift. 38.5x14.5x15 Super Swamper TSL/SX on 15x10 Alum wheels

Exterior:

beat up
dings
minor rust spots
normal work truck after 350000km

Audio:

old crappy Alpine or pioneer stuff and other brand names

Future:

As much as I love my Truck
I might actually try to sell it as I could make more use with the money as a down payment on a house.