Hey guys I'm sure some people have been wondering what kind of drop in temps you would see if you added this to your blower setup. Well this past weekend Rare5spd and myself installed and tested O.E.M.'s spacer before and after using an IR heat gun to get surface temps and then used HPT to log temps while driving normally and under full throttle getting onto on ramps to merge into the highway. The temperature during testing was roughly 28-30 F.
TEST CAR:
04 eco/5spd
Mods:
GMPP M62 kit
gm flash,
3.0 pulley,
Cobra h/e,
wai,
pacesetter,
2.5 exhaust
This is how everything arrived once I received the spacer.
Now when I post up the temps taken at the snout, middle, lower manifold, and #4 runner I'm referring to the spots in red on this photo.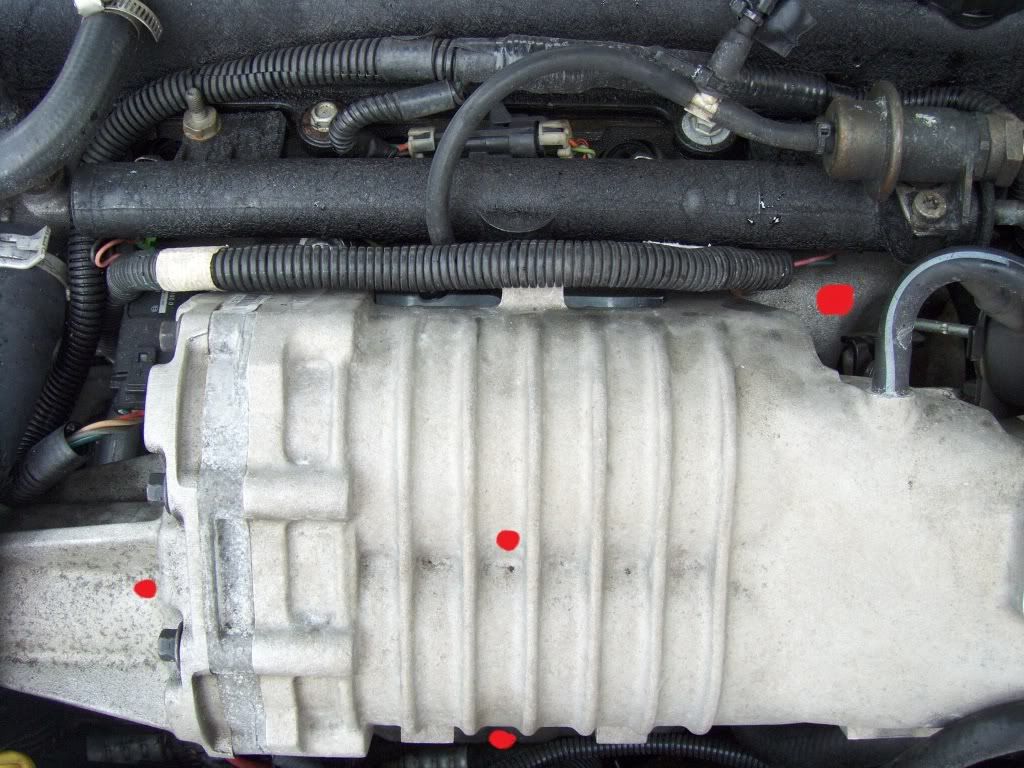 I know some people were worried about hood clearance, I myself have a stock hood without sound deadening material on it. The spacer is only 1/8 in thick, so I wasn't worried but, if I had an invader the clearance might not be as good. We placed play-dough where the map would go on the m62 and by the sensors on the tb as well. Once the play-dough was on the blower I gently closed the hood and once opened I used a box cutter to cut the dough in half. As you will see in the second pic there is slightly more than one inch of clearance by the map/ gm plug location. I had 3/4 inch of clearance by the sensors on the tb as well but didn't take a pic of that.
I layered the spacers out on the blower to make sure that everything lined up before putting everything back together. I would like to note How we installed the spacer and gaskets as some people might do it differently. The order I ran my spacer in was as follows. lower Manifold - paper gasket - Phenolic spacer - gm metal gasket - M62 blower. For the bypass spacer you have a rubber o-ring on the manifold side and for the other that makes contact with the blower bypass I used a light film of black RTV. I had no issues with boost leak or vacuum leaks when we installed it this way.
Ok now for some numbers, once Rare5spd gets a chance he will throw up the logs as well for the review but I told him I was going to put this up prior as we live kinda far apart and he works during the day and I work graveyard shift.
Results:
Without Phenolic m62 spacer- snout 123, Middle 110, #4runner 151, lower intake 137, Cruising temp w/o boost 35-45mph 90-93
With O.E.M. Phenolic spacer - snout 98, Middle 85, #4 runner 126, lower intake 102, Cruising temp w/o boost35-45mph 79-82
Overall I am happy with the difference, However I told O.E.M. that adding a spacer for the intake manifold to cylinder head would really compliment this product as well. So I plan on testing that as well in combination with the M62 spacer and post results later. On a side note I would like to add I had no issue using a stock gmpp belt for the kit and the raising of the m62 should hep with tension on the belt with smaller pulley sizes.
hope this helps some peole who were wondering what benifit they would see.