Congrats man!! Super stoked to see this TVS sitting in your Cavy and cant wait to see some vids on this beast!! Great job Tink!!

I changed the oil tonight and i thought getting the filter out was going to be near impossible because the bypass valve makes the usual M62 route even tighter. Boy was i wrong. Since the bypass valve is in a different location than the M62, the oil cap and filter comes straight out the top. Pulling the oil filter is insanely easy now. Just another reason why im loving this blower.
Error: Sig not found.
We're gonna work on a little write-up/comparison between the M62 and the TVS, but for now I'll just say this was a pleasure to tune. I don't just mean that it was fun to ride in a TVS equipped L61 while the owner repeatedly beat on it, i mean it was easy to tune! Kyle has the racetronix pump now, is still running the 600cc/min injectors, and there is plenty of fuel

Hopefully I can finish the little comparison by the end of today
Racetronix <3. Looking forward to the write up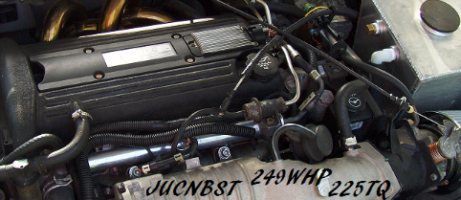 So, here are two screen captures from the data logs. M62 on top, Harrop on bottom:
Here are some of the quick and simple comparisons:
Peak boost on 2.9" M62: ~14 psi, Peak boost on 3.35" Harrop: ~15-16 psi
Duty cycle on 2.9" M62 and 600cc/min injectors with stock pump (12.0:1 afr): 83%, Duty cycle on 3.35" Harrop with 600cc/min injectors and Racetronix pump (10.9:1 afr at redline): 72% This is confirmation to me that the stock pump does not keep up when you put bit injectors in front of it. There is no reason injectors that large should be maxed on the 2.9" M62 set up There has to be a pressure and/or flow drop. We now have enough injector to go down to the 3.1" pulley on the Harrop, and maybe even a bit smaller. When we ran it out on the M62 tune, it was running low 10s/high 9s with the racetronix; we pulled a lot of fuel to bring the AFR error in check. Hell, Kyle could have thrown the 3.1" pulley on and it would have ran fine on the M62 tune because of the upgraded pump

Both blowers reached about 150*F IAT after a 2-3-4 pull, but the Harrop seems to recover faster, even with the high ambient temps we had on Friday (~85-90*F), even with the small increase in pressure.
Like I said, the car was a pleasure to tune with this set up. There was no knock retard to speak of up to 16* peak advance, where a with the M62, whether it be because of the maxed injectors, the heat, or a combination, we battled more with KR initially. So we have room now to add more advance, and enough fuel to richen it if/when knock shows up. If there are any specific questions on the logs and/or tuning from this set up, feel free to ask.
Cliff notes: The GMPP kit should have come with this blower.
So it has been almost a month. I've ran the car 3 hours out to State College PA. beat the piss out of it, then 3 hours back, 4 hours round trip to Reading PA again just because, and multiple spirited trips out and about in my area. I have honestly been driving it more than my S60 and it is a champ. The power is fantastic(still no dyno time yet) and everything seem to be holding. I've completely lit the tires up in 2nd gear while attempting to merge onto a highway on-ramp. I love this blower. It is going to be soo much fun when i get a build L61 in the car and actually start making this blower do some work.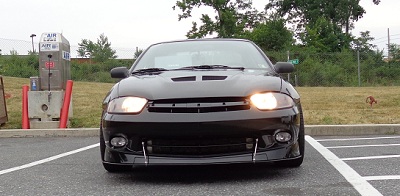 Just to toss a little update in here if anyone finds this thread while doing research.
3 years later and the car is still going strong. I swapped to the stock 3.15" pulley last fall and see ~17psi at redline. Dyno'd 244whp with a bunch of knock in the datalog, so w/o knock I'd say 250-260whp is a safe guess.
Another new year and another year on the stock motor. 115kish miles I believe. I swapped widebands in 2014. I ditched the overpriced Innovate junk for a AEM Uego. Ryan also spent alittle more time tweeking the tune in 2014 too. I am 100% certain that the Innovate was not reading correctly because after I swapped widebands the AEM was pegged at 10:1(even after swapping pulleys). Anyways, at the 2015 Sloppy Mechanics Fall Dyno day I tossed the car back on the dyno. This time it make ~255whp on the 1st pull and on the 2nd it made 260whp.
Another update on the TVS. 3 years ago I had the car retuned on 100 Octane race fuel. We added 8* more timing and changed nothing else. The car now makes 285-290whp. Still on the stock engine and no issues. I never did swap to the LD9 PCM. As of now the TVS has been on the car for 8 years and at least 25,000 miles and it still runs great.
But I do have some "bad" news. The built L61 will not be going into the car and at some point the TVS will be coming off of it. Why? I bought a DF Goblin kit car. The built L61 and TVS will be going in that.