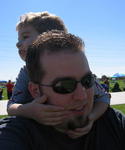 David Piasecki
Location:
Phoenix, AZ
Last Update:
Monday, February 25, 2019
Last Seen:
Wednesday, February 3, 2021
Email:
unlisted
Web Page:
http://www.j-body.org/~dave/
cavman
Matt has a sweet ride, and I think is the envy of a lot of people. I'm sure he puts up with a lot of crap for it too, but I never understood. With enough time and the right mindset almost anyone could do it.
timschilling
He's the bash coordinator, and all around good guy.
scrufdog
Umm.... he, um.... does good stuff with chat.
braty
Tinkerbell? Need I say more...