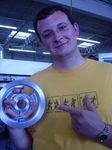 Mike Davis -MD- LD9
mdz24cavalier
Location:
Northeast Ohio In the Lake
Joined:
Monday, August 2, 2004
Last Update:
Thursday, November 12, 2020
Last Seen:
Monday, June 28, 2021
Email:
unlisted
1999 Chevrolet 1JF37 Z24 Coupe, RPO Group 1SA-1SZC

About This Vehicle:


She's go with very little show. "I'll drive it when I feel like it car." Rain, snow, and hail it has seen it all.

Last N/A Dyno numbers are as of 04-15-06: 160 hp & 152 ft/lbs all at the wheels.

Last update on motor...http://www.j-body.org/forums/read.php?f=2&i=441211&t=441080#441211

My hell tread on my previous not starting issues...now solved. http://www.j-body.org/forums/read.php?f=11&i=145548&t=145548&p=1

Should be the first or one of the first cavaliers to be running a LG0 with a 4T40E transmission.

Body Style: Coupe
Color: Aquamarine, RPO Code 22U
Engine: Vin T: RPO Code LD9
Transmission: Automatic
Interior: Black and Red Graphite, RPO Code 12H
Purchase Date: 11/08/2001
Purchased From: Private Seller
Build Date: 06/09/98, VIN 7, Lor


Manufacturer Options


RPO Codes

12H = TRIM COMBINATION CLOTH GRAPHITE (12H)
12I = INTERIOR TRIM GRAPHITE (12I)
1SA = PACKAGE-OPTION 01 (1SA)
1SZ = PACKAGE OPTION- (1SZ)
22U = EXTERIOR COLOR
PRIMARY
AQUAMARINE METALLIC (22U)
6BH = SPRING COMPTR SELECT FRT LH SUSP(6BH)
7BH = SPRING COMPTR SEL FRT RH SUSP(7BH)
8HH = COMPONENT- RR LH COMPUTER SEL SUSP (8HH)
9HH = COMPONENT- RR RH COMPUTER SEL SUSP (9HH)
A31 = WINDOW
ELECTRIC OPERATED
SIDE ELEC SI WDO(A31)
AK5 = RESTRAINT SYSTEM
FRONT SEAT
INFLATABLE PASS SI INFL RST SYS(AK5)
AR9 = SEAT
FRONT BUCKET
DRIVER
PASSENGER
MANUAL RECLINING(EUROPEAN STYLE) MAN RECL FRT BKT ST
DELUXE(AR9)
AU0 = LOCK CONTROL
REMOTE ENTRY(KEYLESS ENTRY SYSTEM) REMOTE ENTRY LK CONT(AU0)
AU3 = LOCK SIDE DOO RELECTRIC ELEC S/D LK(AU3) C49 = DEFOGGER REAR WINDOWELECTRIC ELEC RR WDO DEFG(C49)
C60 = AIR CONDITIONER FRONT MANUAL CONTROLS A/C MAN CONT(C60)
DG7 = MIRROR OUTSIDE RH & LH REMOTE CONTROL
ELECTRIC(PAINTED) O/S ELEC R/CON PAINTED MIR(DG7)
DL5 = DECAL ROADSIDE SERVICE INFORMATION ROADSIDE SERVICE INFO DECAL(DL5)
FE2 = SUSPENSION SYSTEM RIDE AND HANDLING RIDE & HANDLING SUSP(FE2)
FE9 = FEDERAL EMISSION CERTIFICATION FED EMIS(FE9)
FX2 = AXLE
FRONT
3.91 RATIO 3.91R(FX2)
IPH = TRIM INTERIOR DESIGN INTERIOR DESIGN TRIM(IPH)
JM4 = BRAKE SYSTEM
POWER FRONT DISC
REAR DRUM ANTI-LOCK(CAST IRON) ANTILOCK DISC/DRUM BRK(JM4)
K34 = CRUISE CONTROL AUTOMATIC ELECTRONIC CRCONT(K34)
K62 = GENERATOR 105 AMP DUAL INTERNAL FAN DUAL FAN 105 AMP GEN(K62)
LD9 = ENGINE GAS-4 CYL 2.4L SFI DOHC 2.4T(LD9)
LOD = PLANT CODE - LORDSTOWN OH BOC PLANT CODE - LORDSTOWN OH BOC LORDSTOWN OH PLANT CODE(LOD)
MN4 = TRANSMISSION AUTO 4 SPD 4T40-E 4-SPD A/TRANS(MN4)
MX0 = TRANSMISSION AUTOMATIC
OVERDRIVE(MERCHANDISING OPTION) A/TRANS(MX0)
NF2 = EMISSION SYSTEM FEDERAL TIER 1 FED EMIS SYS(NF2)
NK5 = STEERING WHEEL(STANDARD) STD WHL(NK5)
NW7 = TRACTION CONTROL POWERTRAIN MANAGEMENT ONLY TRACTION CTL(NW7)
PG0 = WHEEL 16X6 STYLED(ALUMINUM) STYLED AL WHL(PG0)
QLG = TIRE ALL - P205/55R16/N BL R/PE ST TL AL3 TIRE(QLG)
R8U T43 = REAR DECK SPOILER
U79 = SPEAKER SYSTEM 4 DUAL FRONT COAX
DUAL EXTENDED RANGE PACKAGE SHELF 4 SPKR SYS(U79)
UH8 = CLUSTER-COOL TEMP TACH TRIP ODOM GA(UH8)
UN0 = RADIO AM/FM STEREO SEEK/SCAN COMPACT DISC AUTO TONE CLOCK ETR STEREO W/CD PLAYER(UN0)
US6 = ANTENNA FIXED(PAINTED) FIXED PAINTED ANT(US6)
V1H V73 = VEHICLE STATEMENT - US/CANADA US/CANADA VEHICLE STATEMENT(V73)
VH9 = ENVELOPE OWNER INFORMATION MANUAL OWNER INFO MAN ENV(VH9)
VK3 = BRACKET FRONT PLATE
VM3 = LABEL INFORMATION CONSUMER CONTAINS BPR IMP STANDARD FOR FRT 5 MPH & RR 5 MPH 5 MPH BUMPER INFO LABEL(VM3)

VCVS Codes

10 Engine Assembly BCT TC9
35 Steering column - SIR System Only BCT HRJ
50 Instrument Cluster BC CCJX
61 Transmission BCT 9WBR
65 Rear Axle Assembly BCT JSA
86 Powertrain/Vehicle Control Module (PCM/VCM) BCT CUTM
AB Module Assembly - Steering Wheel Inflator BCT 1720
AD Sensor Assembly - Forward PNT 7309
AL Module Assembly - Passenger Inflator BCT 2341
AS Sensing Diagnostic Module (SDM) PNT 0629
CB Sequence Numbers (Flex) Body Assembly Area T 1ZZ


MODIFICATIONS

Engine:

Current Engine

Modified Matrix Ram Air Intake & Ebay Air Intake Hybrid
"Clydes" LG0/LD9 Hybrid Titanium Spring Retainers
2.3L LG0 Valve Springs
Design 3 Lightweight 2.3L LG0 Lifters
LD2 2.3L 88 Intake & Exhaust Cams-200 degrees @ .050" with .375" lift-Both Cams
LD2 2.3L 87-88 "Smooth Cam Towers with Steel Liner Inserts for LG0 Lifters"
McMoney Cam Tower-End Covers Intake & Exhaust
56mm LG0/LD9 Hybrid Throttle Body
95 J-body Lower Engine Mount Bracket
RKSport Upper Engine Mount Insert
RKPosrt Lower Engine Mount
Ennotech Designs - Stainless timing cover hardware kit
Ennotech Designs - Urethane filled Transmission Mount
Ennotech Designs - ARP Upper Mount Hardware kit
Accel Adjustable Fuel Pressure Reg. ACC-74565 or Accel Adjustable Fuel Pressure Reg. ACC-74566 - Can not recall which is correct
Adjustable Fuel Pressure Reg. Aeromotive 13107 or Aeromotive 13106 - Can not recall which is correct
Auto Meter p/n 2173 Fuel Pressure Gauge
NGK V-Power Spark Plugs p/n TR55
Pacesetter Un-coated Header
Catco 2.25" High-Flow Cat/Downpipe
Pacesetter 2.25" Catback
AeroSpeed 2.25"-4" Muffler
CarCustoms/RKSport Upper & Lower Motor Mounts
Removed A/C Compressor - Condenser - Tubing & Evaporator
A/C By-pass pulley GM p/n 24574519
2000+ Starter
Hyper Grounded Engine with 4 gauge Wire
"Big 3 Upgrade to 4 Gauge Wire"
My Prototype "Set 1" Custom Designed Lightweight Crank and Alternator Pulleys
2000+ Plastic Tensioner
HPtuner's PRO
Racetronix's F-Body LS1 Fuel Pump
Racetronix's Upgrade Wiring Harness

Current and Future Transmission 4T40-E

99/02' 4T40-E Eco trans internals in 99' LD9 4T40-E Case
"Red" Yank 3000 RPM Stall Converter
B&M Pro Racket Shifter - Under Development
B&M Shiftplus Removed for HPTuners Tune
TCI Auto P/N 823200 - TCI Performance Transmission Cooler
Team Grean LSD
Raybestos Blue Plate Special Stage-1 Complete Module # RCPS-29 4T40E/4T45E Trans
RPT Stage 1# R600100-Forward-1995-Up-8684445
RPT Stage 1# R600110-Direct-1995-Up-8684415
RPT Stage 1# R600120-Intermediate-1995-Up-8684322
RPT Stage 1# R600130-Coast-1995-Up-8684282
RPT Stage 1# R600140-Reverse-1995-Up-8684266

New Motor..Awaiting Swap and More PARTS!

Zero Mile LG0 Crate Motor...Yes you read that correct

LG0 High Output IDI cover
92 Quad 4 Thermostat - 180 Degree
91 Quad 4 Metal Thermostat housing
95 J-body Alternator Plug-n-Play with 99 Harness
LD9 Hybrid Throttle Body - LG0 56mm Throttle Body Plate
95 LD2 Throttle Cable Bracket
91 LG0 Intake Manifold
Ron's Header - 1.75" Primaries to 3" collector
95 Lower Intake Cam Tower
LG0 Upper Intake Cam Tower
LG0 Intake and Exhaust Cams
Quad 4 Lifters - Light Version - Design 2
Intake Cam +2 Degrees - Exhaust Cam -2 Degrees
LG0 Dip Stick Tube - dip stick
95 LD2 - Timing Chain Cover
Quad 4 Dual row timing chain - tensioner - guides - gears
Aeromotive p/n 13107 or 13106 - GM LT-1 Fuel Pressure Regulator one is right on is left
LD9 Fuel Rail with Auto Meter 60PSI Fuel Pressure Gauge - p/n 2173
M45 LD9 310cc Injectors - GM P/N 17113399
6800-7250RPM Shift Points - Depending on Gear & 7500RPM Rev limiter
Tuned with HPTuners Pro
One range hotter NGK plugs -Gapped at 0.039" LN2 Ignition Conversion
MSD Cam Sync Genorator - P/N 8914 - To replace missing Cam Sensor and trigger pad
MSD Coils - P/N 8224 x2
MSD Coil Bases - P/N 8870 x2 MSD 9mm custom Length Spark Plug wires
CarCustoms/RKSport Upper & Lower Motor Mounts
Removed A/C Compressor - Condenser - Tubing & Evaporator
2000+ Small LD9 Starter
Hyper Grounded Engine with 4 gauge Wire
"Big 3 Upgrade to 4 Gauge Wire"
Custom "Crank Trigger" Crank Pulley - LD9 Diameter
Custom Over Driven Alternator Pulley 1.818"
3" Stainless Steel Magna-flow -Highflow cat
3" Stainless Steel Piping
3" Stainless Steel Hush muffler x 2
Ennotech Designs -8an Catch Can setup with drain back to block
Tons of -an fitting and Summit twist-lok fitting and hoses
Add more when I remember more.

Suspension/Wheels/Brakes:

Stock 95-99 Z24 Rims with 225-50-R16 Yokohama AVS ES100 Tires or...
Stock 95-99 Z24 Rims with 205-55-R16 All Season Tires
RActive Front Strut Tower Bar Convertable GM Strut tower Brace - Two bolt firewall mount
Vibriant Rear Strut Tower Bar
Eibach 26mm Front Sway Bar #3860.310
Energy Suspension Performance Sway Bar Complete End Link Set (Front) Part #9.8120R
RKSport 22mm Rear Sway Bar
Powerslot Cross Drilled & Slotted Rotors
Hawk HPS Brake Pads
KYB - AGX Adjustable Struts
Eibach - Pro Kit Lowering Springs
SGM Control Arms & Polyurethane Bushings Aluminum Grand AM Control Arms
Level Zero Motorsports - Polyurethane Trailing Arm Bushings
Teh Jeffie Delrin - Trailing Arm Bushings
3/8" Rear Hub Spacers Made by Teh Jeffie
Teh Jeffie - 3/8" Rear Saturn Disk Swap Adapters
Looped Power Steering Rack
Russel - Braided Stainless Front and Rear Brake Lines
Custom "DSMskyline" Rear Stainless Brake Lines from Axle to Rear Disks
McMoney - Front Adjustable Chamber Plates - 96-98 lower strut mount plates
Ennotech Designs - ARP Front Strut Mount Hardware kit
Arraut Motorsports / Ennotech Designs - Solid Rear Mounts w/ Polyurethane Bushings
To be acquired...BC Coil-Overs kit
To be acquired...16x8" rims with 25mm offset
To be acquired...245/45/16s in Bridgestone Potenza RE-11 to be exact...http://www.diamondracingwheels.com/

Interior:

95' Graphite Full Dash
96' Graphite Headliner - Custom dome lighting cutout
96' Graphite Sun visors
Graphite / Black Push Pins
Map Light Buttons Delete
95-96' GM p/n 22643022 Under Dash cover Driver Side
95-96' GM p/n 22640120 Under Dash cover Passenger Side
OBD2 Extension Cable: J1962M Right Angle to J1962F 6ft
Chevy Racing Mats or Original Factory Mats
99' Blackcat Customs White Face & Red Glow Gauges "First Prototpye Set"
Blackcat Customs HVAC Overlay White Face & Red Glow "First Prototpye Set"
Blackcat Customs Dimmer & Foglight Overlay White Face & Red Glow "First Prototpye Set"
AutoMeter Dual Gauge Pod and Single Gauge Pod
Cyberdyne Oil Pressure Gauge
Cyberdyne Transmission Temperature Gauge
Innovative Motorsports MTX-L "Digital Wideband" Gauge Kit
Momo Auto Shift Knob
1.25" Shortened shifter shaft
Removed Vent Sliders
Removed Backseat and Seatbelts (Added Black Carpet) Soon to add black ABS full seat Delete

Exterior:

Ennotech Designs - ARP Fender - Hood & Latch hardware kit
Ennotech Designs - 10" Teal Tow Straps - Front & Rear
Shaved Chevy and Cavalier Emblems
Clear Corners and Bumper Lights
APC Euro Tails - To be replaces with 95 Tails with working separate turn signals - like Toyota Cavalier tails
Chevy Bow tie Valve Caps
Short Coil Antenna
Team Innovation Decal
Third Brake Light Overlay (Z24)
Grille Tech Mesh Grill Inserts
Painted Drums & Calipers
Redline Gas Hood Struts
"Titus" Carbon Fiber Center Caps
Carbon Fiber Gas Door
Original GM Cavalier Mud Flaps
Custom License Plates (MD LD9)

Audio:

Pioneer 4x6s
Pioneer 6x9s
Sony Explode CDX-GT260MP Head Unit
That enough audio for now....

Miscellaneous:

LG0 running on a custom 99 Tune (Scraped this idea and sold LG0)Bought another LG0...this is ON!!!
J-Body Stickers
Random things removed for weight Reduction

Future:

Finish Engine Build/Rebuild and Trans Rebuild
Repaint the whole CAR
Maybe some Drag Slicks on CORE RACING SUPER-LITE 14's and 16's
For Ref. 2.3 A/C By-pass Pulley p/n 22533199
Powder Coating Everything PMB 1250 TAHITIAN TEAL or Torque-N-Teal...better yet UPB 1736 HAWAIIAN TEAL...or H.D. Teal UPB 1848
Melling LG0 MC1235 & MC1236 Cams
Comp Cams 53-000-5I HG2 Intake Cam
Comp Cams 53-000-5E HG2 Exhaust Cam
Melling LGO JB-2236 Lifters
Crower Neon/Mitsubishi Valve Springs Part Number: 68190-16
NR>>G Steering Wheel - RST-012S-RS
W41 IDI Cover P/N - 10474365
ARP 254-2901 - ARP Pro Series Flexplate Bolt Kits
Either Jegster 4 Point Cage P/N 949401K or Jegster 8 Point Cage P/N 949403K
Hoosier Drag tires P/N H00-17320
Toyota Trunk Liner GM - P/N 22657896 & Retainers GM - P/N 11518017
SUNBRELLA AQUAMARINE Interior
SEM Texture Coating - P/N 3985
Powder Coat Exhaust and Header - Tungsten High Temp Cerakote
245/45/16s on a 8" Rim with 10mm offset
GM Premium Front Mats - P/N 12495315
GM Premium Rear Mats - P/N 12495253
ACDelco/GM 95 LN2 Radiator Surge Tank - P/N 22641036
Shorter ACDelco Ebrake Cables - P/N: 22651234 I'm sure I forgot to list a bunch of stuff!